August was filled with all kinds of sweet and savoury products I was sent to try… some I haven't even got a chance to taste yet so I will be mentioning in the next Tried & Tested edition, in meantime you can read about those I liked the most so far.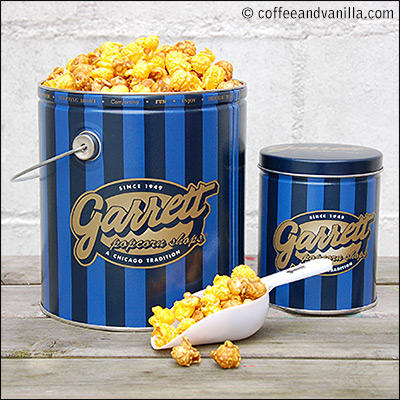 Garrett Popcorn that has started as a single shop in Chicago back in the 1949, now is available worldwide and coming also to London. Garrett's popcorn is definitely one of those flavours you simply can't forget (!) We have received buckets of The Chicago Mix ($33.00 / 1 gallon) that is a mixture of cheese and caramel popcorn. The girls enjoyed both sweet and salty popcorn although one was picking most of the cheese ones when the other was with her sweet tooth she was going for caramel bits. But both of them enjoyed playing shops with the buckets and enclosed scoops equally. My husband and I we liked both flavours, especially when eaten together, both flavours at the same time – unforgettable experience and yellow fingers afterwards. We have saved some of the popcorn in the tin for later and then forgot about it, I was surprised that after couple of days it was still fresh and crunchy like on the beginning….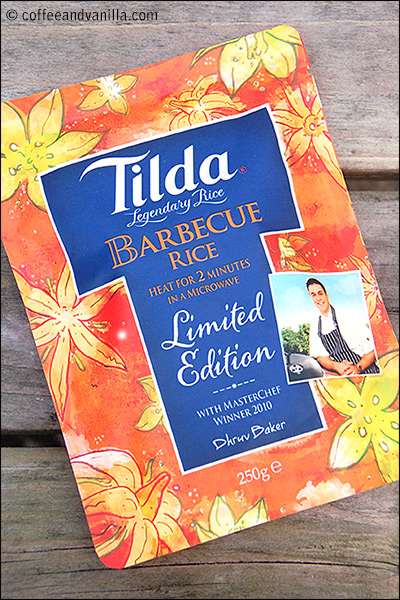 Tilda's Barbecue Rice ( about £2.37  per 250 g) bursting with smokey flavours, spiciness and aroma of fennel  is incredibly easy to prepare and would taste delicious with any BBQ – meat and veggies or even on it's own but then one package would probably not be enough for 2 servings.
Douwe Egberts' The Flavour Collective instant coffee selection is now available in four delicious flavours: Delicate Vanilla, Roasted Hazelnut, Smooth Caramel and new Enticing Chocolate (about £2.98 per 50 g)
In the morning I like my coffee sweet and black, the Roasted Hazelnut and Delicate Vanilla flavours were just perfect for that purpose. They would taste also great in cappuccinos and lattes or as iced coffee. The caramel and chocolate coffees are great served sweet and milky, perfect after dinner instead of dessert. To try one of the flavours for yourself simply request sample from Douwe Egberts' Facebook page.
It looks like my family shared my personal taste for hazelnut and vanilla as those two flavours has finished first, I don't even want to think I will have to come back to plain, unflavoured coffee tomorrow morning…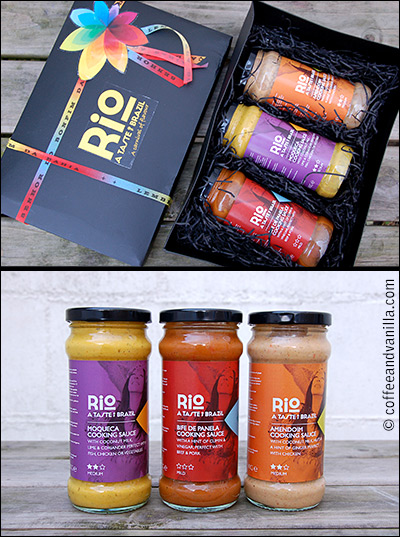 The Rio – A Taste of Brazil cooking sauces ( £3.00 each) will bring true Brazilian carnival flavours into your home without almost any effort. In addition they are free of additives, preservatives and artificial flavours, suitable for vegetarians and gluten free.
Our favourite was Moqueca – medium spicy sauce for chicken or fish packed with flavours of coconut and coriander. I prepared it with roasted white fish, added the sauce towards the end of baking with a bit of water. The whole family, even kids have enjoyed this dish.
The other pictured flavour is mild Bife De Panela that can be used with any meat dishes, even to add flavour to stews or soups.
Due to peanut allergy in the house we haven't try the third sauce – Amendoim but it sounds fabulous, it is a medium spicy sauce combining flavours of coconut, lime, ginger and peanuts and can be used with chicken or as a dip for veggies.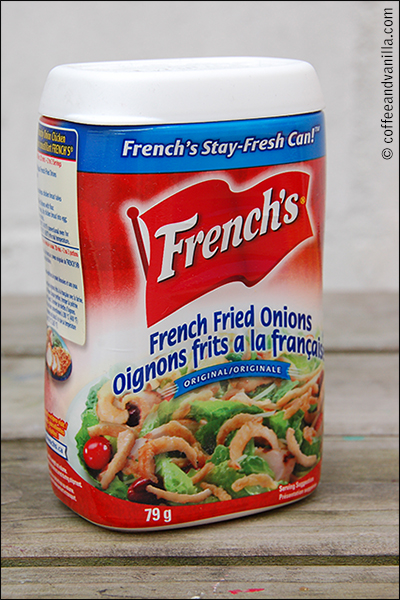 French's French Fried Onions ( about £2.95 per 79 g) are much more than just fried onions. In my opinion compared to other similar products they are crunchier, tastier and seem to have less fat. Added to salads, hot dogs or even thick soups (especially lentil ones) will give them extra texture and flavour.
This month I reviewed as well Just Falafel fast food on Monmouth Street in London, "The Pet Itch" and "The Bunny That Couldn't Be Found" children's books from Maverick, cooked from Devnaa Indian-Inspired Desserts and visited Horniman Museum & Gardens in Lewisham.
DISCLOSURE: Garrett Popcorn, Tilda's Barbecue Rice, Douwe Egberts' The Flavour Collective coffee, The Rio – A Taste of Brazil cooking sauces & French's French Fried Onions were sent to me for review purposes. I was not financially compensated for this post. All opinions are my own.