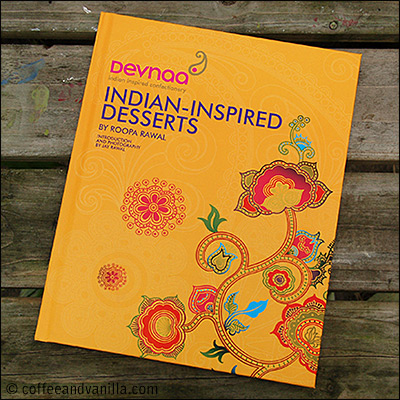 Having previously tried and loved Devnaa spiced cocoa drink and chocolates (mentioned it in June's Tried & Tested) I could not resist opportunity of reviewing their cookbook as well. "Devnaa: Indian-Inspired Desserts" by Roopa Rawal is packed with easy to follow and often quite well known dessert recipes in spiced up and egg-free versions bursting with flavours of chocolate, vanilla, saffron, cardamom, ginger, almonds, pistachios and other fragrant ingredients.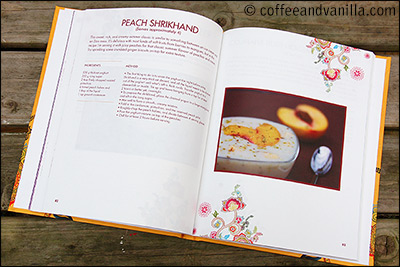 The book if published as paper back or quality wipe-clean hard cover edition and beautifully illustrated with mouth watering photography and colourful Indian patterns by Jay Rawal. It is also available as Kindle edition.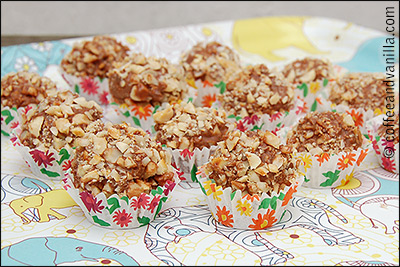 Together with my 8 year old daughter we have started with very easy but such a delicious little treat: Chocolate and Hazelnut Ladoo. The recipe does not have many ingredients or steps and there is no baking involved hence it it is very easy, even for a child to follow. Our ladoos came out exactly the same as in the book, the only thing is that because we have made our ladoos much smaller we have run out of hazelnuts towards the end were forced to substitute them with some flaked almonds we had on hand but they were delicious anyway. My daughter loved this recipe so much we are planning to make some more of them again this weekend.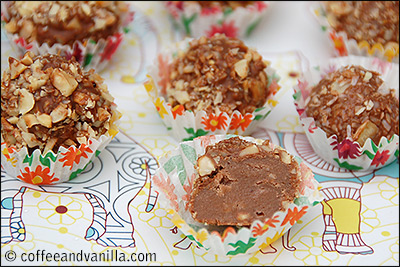 Mentioned no-bake Chocolate and Hazelnut Ladoo is just one of great recipes. "Devnaa: Indian-Inspired Desserts" is loaded with all kind of interesting desserts for any occasion: fried Chocolate Jalebi, baked Chai Masala Cupcakes , spiced Coconut and Ginger Cheesecake, simple Paneeer,  pipping hot Gajar Ka Halwa, chillded Coffee Masala Tiramisu or frozen Saffron and Cardamom Ice Cream, that will satisfy any taste.
Indian savoury dishes are well known: pakoras, samosas, curries but if I would have to name any Indian dessert before getting my hands on this book it would probably be only mango lassi… and it is a drink not a proper dessert anyway.
This is one of those books that you like to keep and use all the time, it would also make a great gift for anyone interested in preparing classy desserts or discovering spices.
"Devnaa: Indian-Inspired Desserts"
AUTHOR: Roopa Rawal
PUBLISHER: Devnaa LLP
FORMAT: Hardcover
SIZE: 256 x 212 x 18 mm
PAGES: 125
LANGUAGE: English
ISBN: 978-0957094703
PUBLISHED: 31st May 2012
One of those books that you like to keep and use all the time…
5 out of 5 stars
You can find parts of this article between my other reviews on Amazon website.
The book is also available through Amazon.co.uk and Amazon.com stores.
DISCLOSURE: I received "Devnaa Indian-Inspired Desserts"  from Devnaa along with ingredients for couple of the recipes for review purposes. I was not financially compensated for this post. All opinions are my own.