INGREDIENTS
for the filling
about 20 – 30 largest leaves from 2 – 3 cabbages (depending on size of the cabbages) + couple more leaves for bottom of the pot
800 g minced meat (we have used turkey)
2 onions (diced finely)
2 tbs of butter for frying
½ cup rice
2 tsp of sea salt
freshly cracked pepper
handful of fresh chopped parsley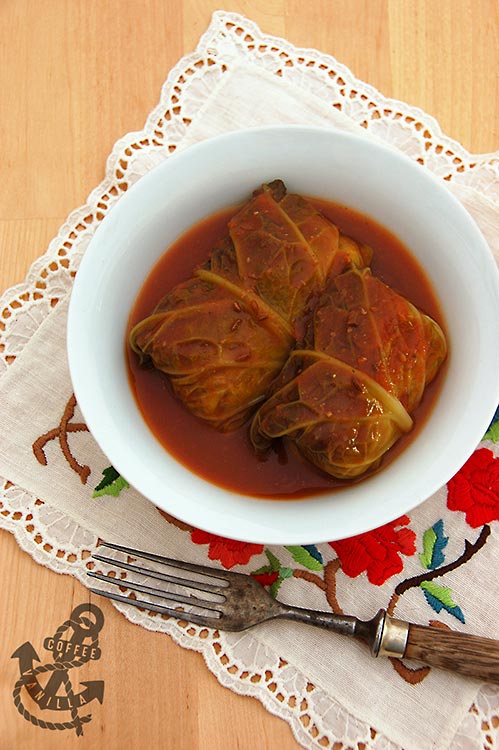 for the sauce
enough boiling water to cover the gołąbki in the pot
2 tbs caraway seeds
2 tbs crushed dried wild mushrooms
300 g tomato purée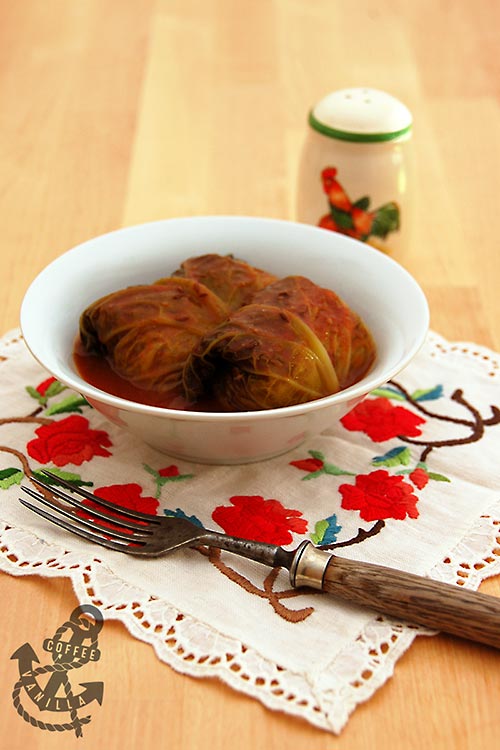 METHOD
First fry onions on butter until browned, skip this step and use raw chopped onions for healthier version.
In a mixing bowl combine the onions with minced meat.
Add also rice, salt and pepper, mix well.
In meantime place cabbage leaves for a moment in boiling water to soften them, scrape out hard leave stems if necessary.
Place portion of the meat mixture in the middle of the leaf, fold sides and then roll to create gołąbki.
In a large pot place first some extra leaves on the bottom and then arrange the rolls tightly so they won't break while cooking.
Pour over enough hot water to cover them completely.
Add also caraway seeds and mushrooms.
Once the cabbage leaves are soft stir in also tomato purée and cook some more.
If the sauce is watery remove gołąbki from the pot and continue heating the sauce until reduced to the right consistence.
Season to taste with salt and pepper if necessary.
Share to the plates and serve either with mashed creamy potatoes or buttered bread.
Makes 20 – 30 rolls / 8 – 10 servings.
NOTES
Gołąbki means "little pigeons" in Polish.
Leftover, too small leaves can be saved to make some Coleslaw the following day. They can be also used to make Coconut Curry Veggies with Roasted Cashews or out favourite Caribbean Style Steamed Cabbage with Carrots.