[adaptation of Chocolate & Hazelnut Ladoo recipe from "Devnaa: Indian-Inspired Desserts" by Roopa Rawal]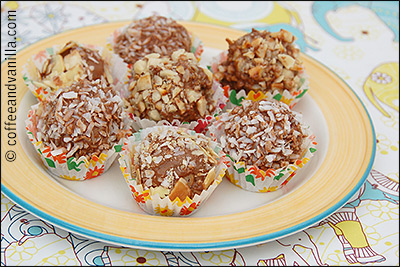 INGREDIENTS
200 g tin of condensed (sweetened) milk
about 2 tbs of milk or water
2 tbs cocoa powder
100g / a bit less than 1½ cups of powdered milk
100 g bar of milk chocolate (chopped)
chopped roasted hazelnuts, flaked roasted almonds or some dessicated coconut – for rolling
EQUIPMENT
saucepan
mini paper muffin / chocolate cases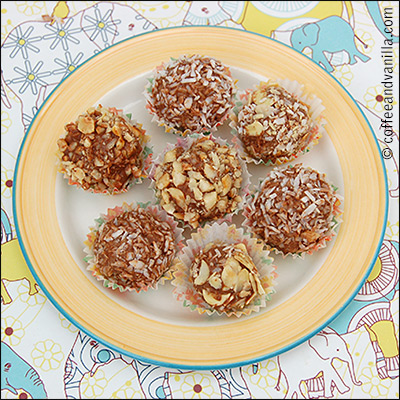 METHOD
In a saucepan combine condensed milk, milk/water and cocoa powder and heat over low fire stirring constantly.
Add also powdered milk and continue stirring until the dough have smooth texture and is thick enough to roll.
In meantime melt the chocolate bar in a microwave or over a pot of boiling water.
Once the dough mixture has cooled down a bit take about 1 tsp of it and roll to form a ball.
Deep each ball in melted chocolate and then roll in chopped nuts or shredded coconut and place inside the paper case.
Once all truffles are ready place them in a fridge for a while before serving.
Makes about 35 small truffles.