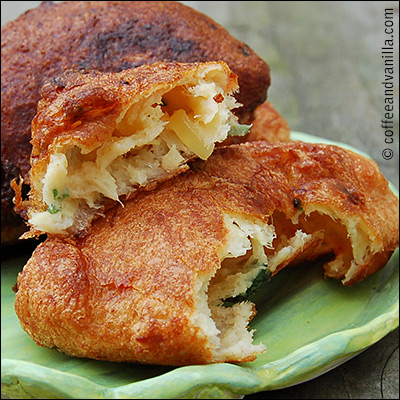 INGREDIENTS
160 g vegetable shortening (I used Kasia)
2 cups plain flour
2 cups of boiling water
2½ tsp baking powder
½ cup potato flour
2 pinches of salt
1 tbs of golden caster sugar
8 whole eggs
400g salt skinless and boneless fish fillets (soaked overnight, drained and flaked)
2 onions (finely chopped)
1 tsp chilli flakes – optional
handful of coriander or parsley (finely chopped)
1½ l oil for frying (I used rapeseed oil)
EQUIPMENT
wooden spoon
medium pot (to cook the dough)
mixing bowl
large / wide pot (for frying)
hand mixer or potato masher
tongs
paper kitchen towels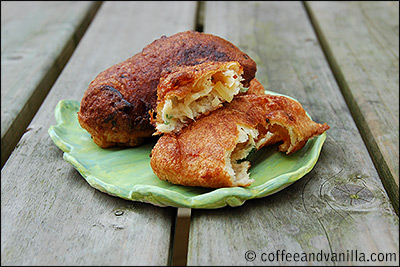 METHOD
Heat water in a medium pot together with vegetable shortening, until all melted.
In meantime combine flours, baking powder and salt.
Quickly stir flours into the pot with water, heat and mix with wooden spoon to create springy ball of dough.
Remove from fire, transfer dough to the mixing bowl.
Using hand mixer (or potato masher) combine dough with eggs adding them gradually.
Continue mixing until the dough is very smooth.
Add chopped onions, herbs, chilli and flaked fish, stir well. (Add a bit of milk or water if the dough is too thick.)
In a large pot heat the oil.
With a table spoon scoop portions of the dough and place in hot oil.
Fry on both sides until golden brown.
Drain on a plate lined with paper towels.
Leave aside to cool down.
Serve warm or cold.
Makes about 20 medium acras or many more small ones .
NOTES
Serve with green salad on a side.
Those acras are fusion between Polish Vienna doughnuts and Caribbean salf fish acras I preciously made :)