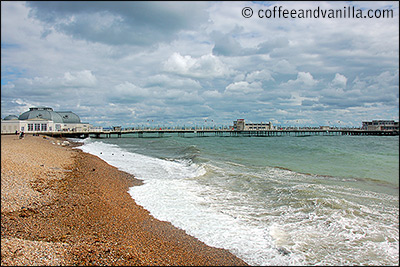 We have been planning (unsuccessfully so far) moving to the seaside for a longer while now, mostly because of the rent/house prices and promise of healthier life for our daughters, away from pollution causing the allergies.
Two weeks ago we have visited Worthing in West Sussex to view the flat that supposed to have double glazed windows and modern kitchen and turned out to be old cottage with layers and layers of paint on the walls, dirty carpets, wooden windows that were not even closing properly and kitchen without anything except for the old counter, not even an extractor… what a waste of time (!) If we were about to buy a place we would probably consider it as the location was great and after refurbishment the flat could be amazing… but not to rent in this condition, especially for the asking price.
Anyway… I did not want to go back on the train to London without having fresh fish & chips for lunch and on the way we took couple of shots to share with you.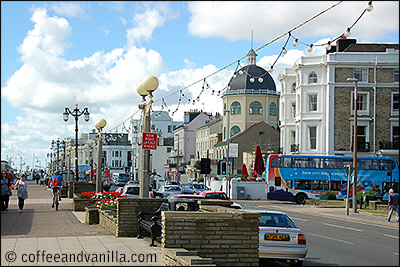 Worthing's Marine Parade has truly beautiful architecture… The day was quite windy but sunny and I enjoyed our short walk a lot.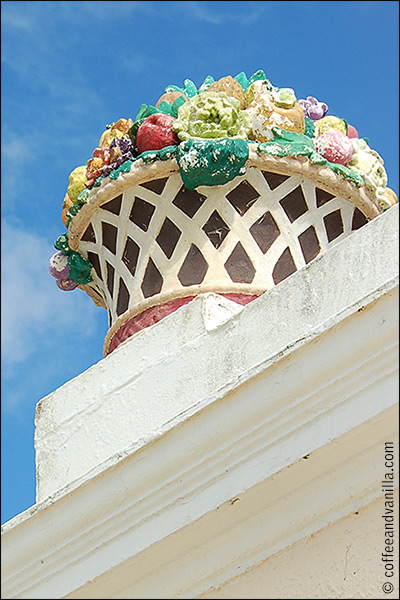 There restaurant near the pier area resembled "milk bars" I remember from communist Poland but it had nice details on the top of the building.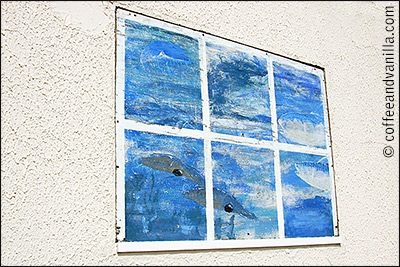 And on the outside walls…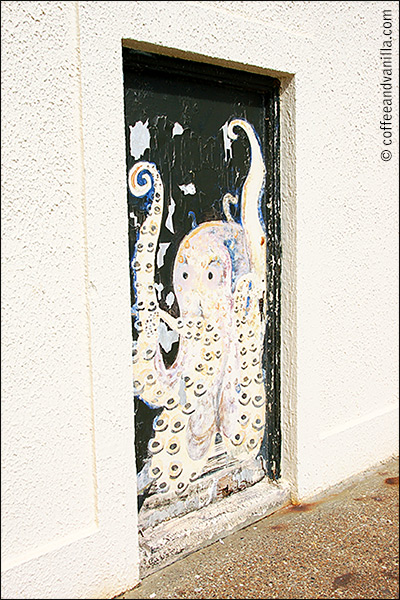 I was hoping to take a barefoot walk on the beach but when I realized it is made of pebbles I changed my mind and we continued our search for fish & chips.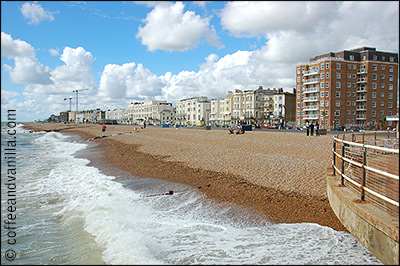 Pictured below The Lido is some kind of entertainment center e with children rides, games, ice cream, smoothies, gift shops etc… as there was no visible fish & chips we just passed it by.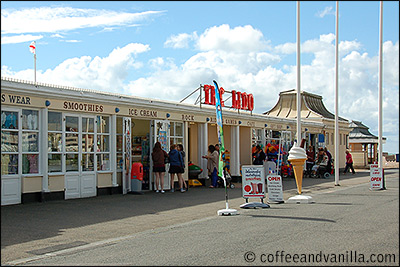 The positive thing about Worthing is the fact that is has direct train links to London Bridge and Victoria Station that are about 90 minutes away. Worthing has also regular trains and bus number 700 between Brighton, Worthing & Portsmouth.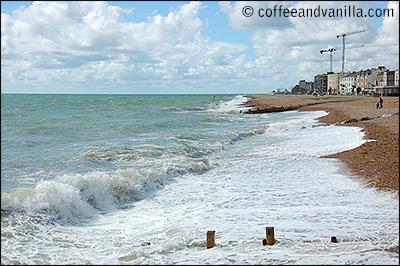 The other advantage are the schools with rating of 4 and half stars out of 5 (as reported by Zoopla) – quite impressive.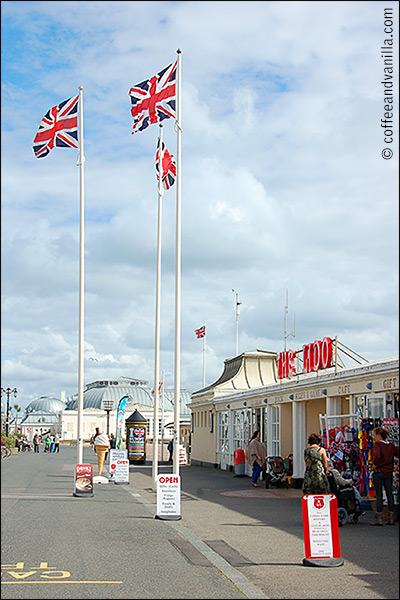 Despite the stone beaches and flat that turned out to be rubbish I really liked the town and wouldn't mind moving down there. The only thing that worried me a bit was the fact that Worthing is not as multicultural as London. According to Wikipedia almost 95% population is white, less than 1% black and 1% mixed race… Not a big problem for me but I would like to be sure that my girls will feel comfortable at their new school when we will move.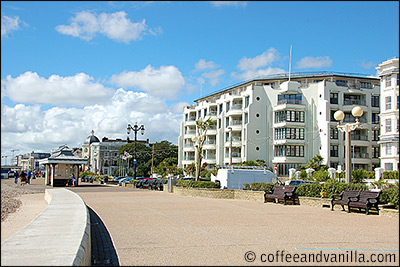 Worthing is quite compact town what means that all major banks, shops, train station, sea front are in one place… quite handy, I really like the idea of being able to walk everywhere and not having have to travel on the bus all the time or not needing a car to move around.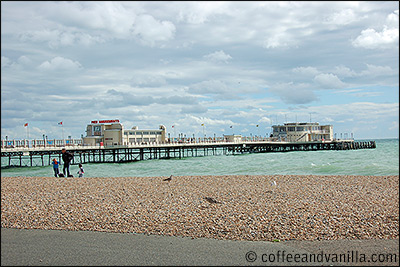 Also the flat prices are much cheaper than in Brighton itself despite the fact that it is very close by.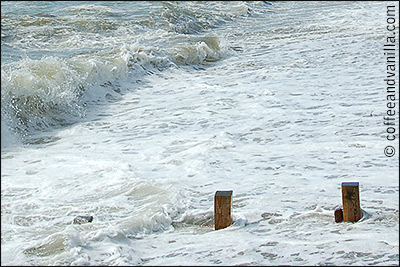 Heading to the train station to go back to London we have found two fish & chips shops next to each other. Makara was less crowdy than their neighbors (who had special discounted prices for pensioners) so being very hungry we decided to give it a try,.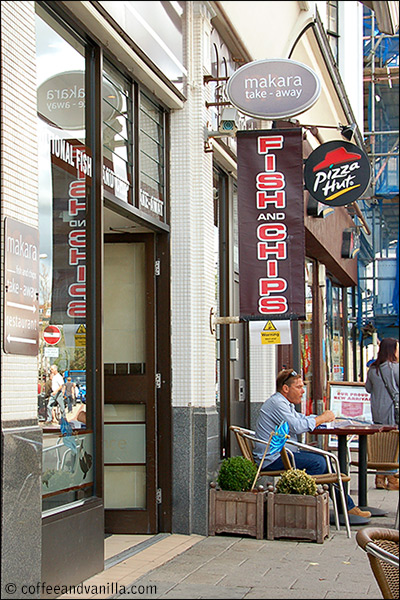 We went for battered cod & fries, the portions were very generous, I should have ordered small instead of medium portion, my husband gobbled up his large meal without any problem though.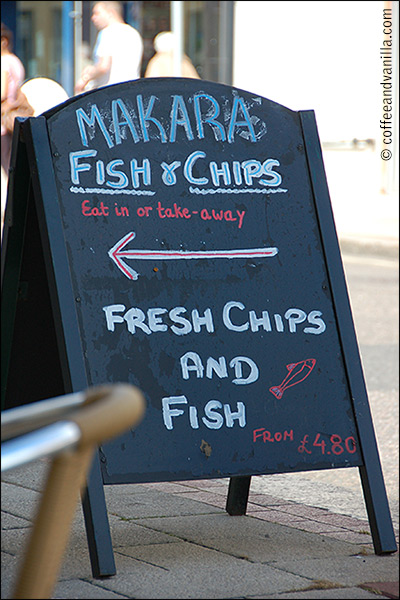 The fish was nice, fresh, soft and crunchy and fries chunky. As much as I enjoyed the fish I would not recommend caffè latte from Makara, I did not like it.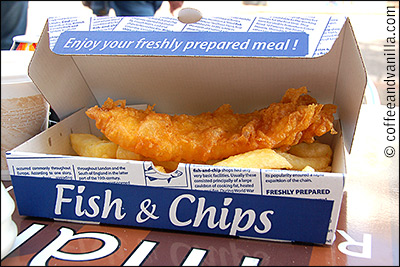 And this is how our trip to Worthing has come to an end…we took train back to London short while after.
More images from other seaside places coming soon…