Brussels sprouts accompanied my entire childhood (not only at Christmas time), my mother would boil them and then top with generous amount of breadcrumbs in melted butter, the breadcrumbs would be sweet and salty at the same time… it took me years to figure out proper balance between salt and sugar but I think I finally got it.
This is very simple recipe but the key is using real ingredients here for delicious, sweet and salty buttery taste. Margarine and processed breadcrumbs simply won't work here.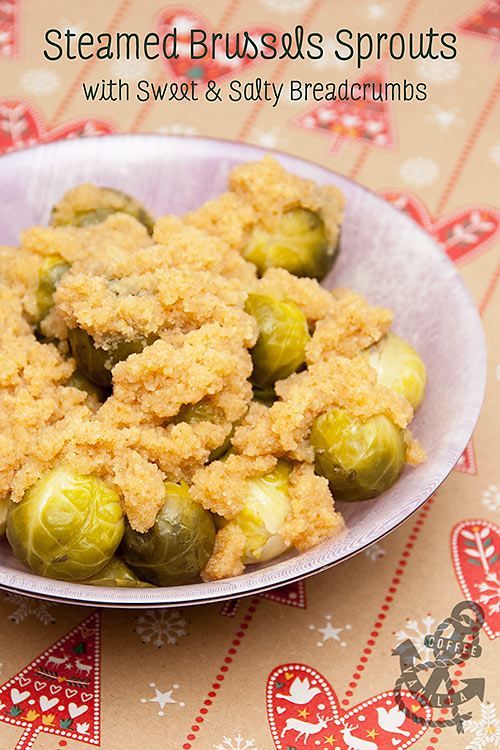 INGREDIENTS
1 kg fresh Brussels sprouts (trimmed and washed)
a bit more than ½ cup of fine breadcrumbs (real ones, like those you buy from the bakery or from the Polish section in the supermarket, not the granulated ones)
½ bar / 125 g real butter (unsalted)
1 tbs golden caster sugar
½ tsp sea salt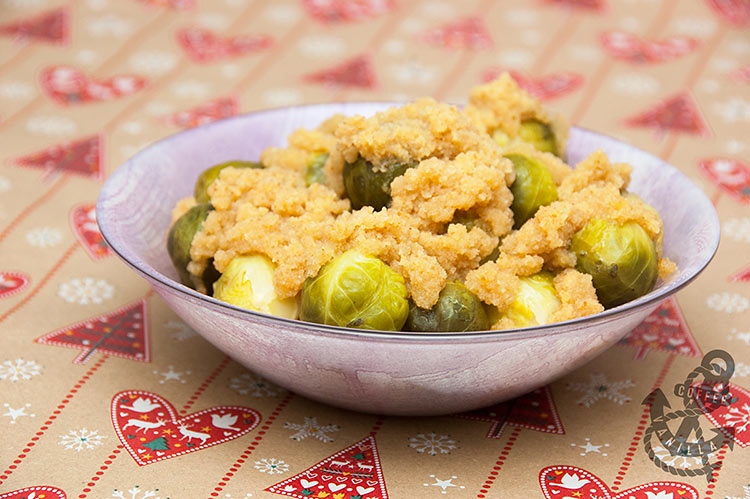 METHOD
Steam the Brussels sprouts, until soft to your liking.
In meantime in a small saucepan melt the butter, add breadcrumbs and let it bubble for a while until breadcrumbs turn golden.
Season with sugar and salt and heat a while longer.
Pour over drained Brussels sprouts and enjoy!
Serves 4 – 6 people as a side dish. 
NOTES
My mother used to make cauliflower and string beans in similar manner, boiled with breadcrumbs.
Here is recipe for my mum's boiled Brussels sprouts in breadcrumbs I posted years ago.
If you are looking for more ideas how to serve your Brussels sprout side this Christmas, check out Ssautée Brussels Sprouts from Cook Sister, Stir-fried Brussels Sprouts with Bread Crumbs or Grilled Brussels Sprouts we made.
Or couple other recipes with Brussels sprouts: Maple-Glazed Sprout Tops and Crispy Pork with Creamy Polenta from Elizabeth's Kitchen Diary, Caraway, Apple and Brussels Sprout Slaw with a Mango Yoghurt Dressing from Recipes from a Pantry, Warm Brussels Sprout, Carrot, Pasta and Smoked Mackerel Salad or Brussels Sprout, Carrot and Pasta Salad in Creamy Coconut Curry Sauce from our blog.
I'm submitting this to the Inheritance Recipes challenge that we have started together with Solange of Pebble Soup. This month theme is Eat Your Greens so this Polish recipe in perfectly. If you haven't done it yet, please come and join us, share your inherited recipes with us!