As far I remember from my childhood memories Christmas time smells like fresh pine tree. We may not always had a lot of gifts but there was always a real tree… as big as possible. My father would often have to trim the top to fit it in the room. Then for months we would be finding those pesky pine leaves between the wooden floor planks.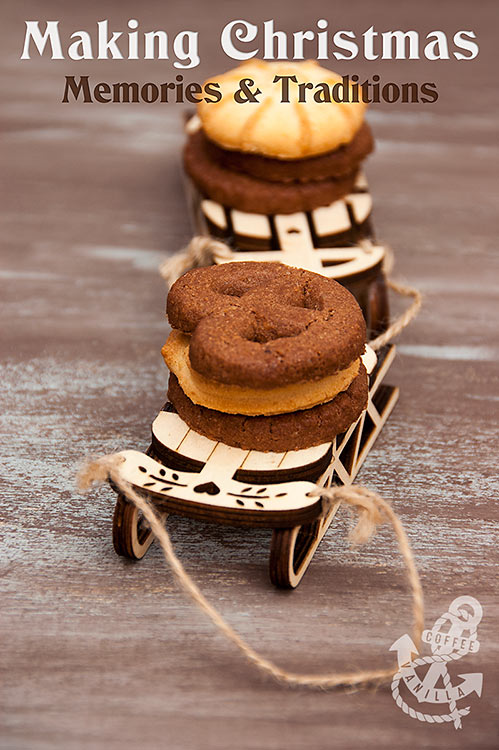 Another thing I recall are the decorations… they were very precious (to us kids) and carefully stored year after year. We would always excitedly await the day when we were opening Christmas decorations box.
Besides remember one particular time when my sister and I went to the Christmas  market to get some new baubles with my mother… we did not do it often so it was a big day and we carried them carefully home.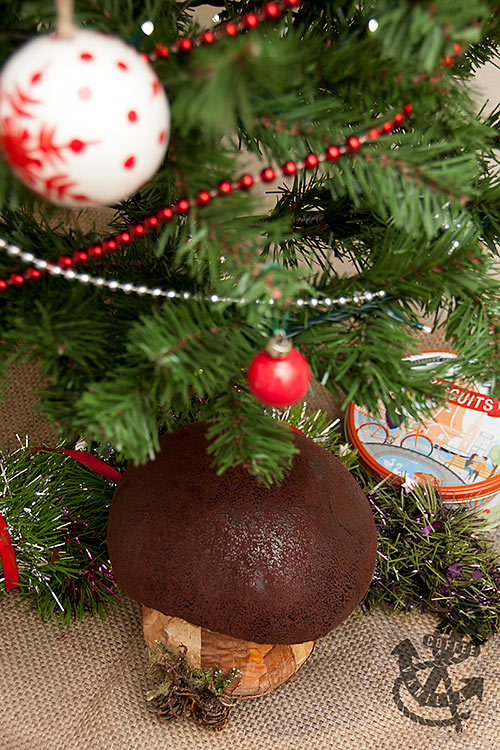 giant mushroom decoration (£2.00) & European Tour biscuits (£1.70 / 100 g) from HomeSense
Nowadays, when I'm mother myself, I try to keep tradition of collecting special, treasured baubles as well. We don't buy many of them, couple a year but they must be our absolute favourite… Last year we got two pretty squirrels with fluffy tails, the other year couple metallic acorns but this year we went a bit crazy.
On our visit to HomeSense we got more than couple baubles: owls, diamonds, sledges and more.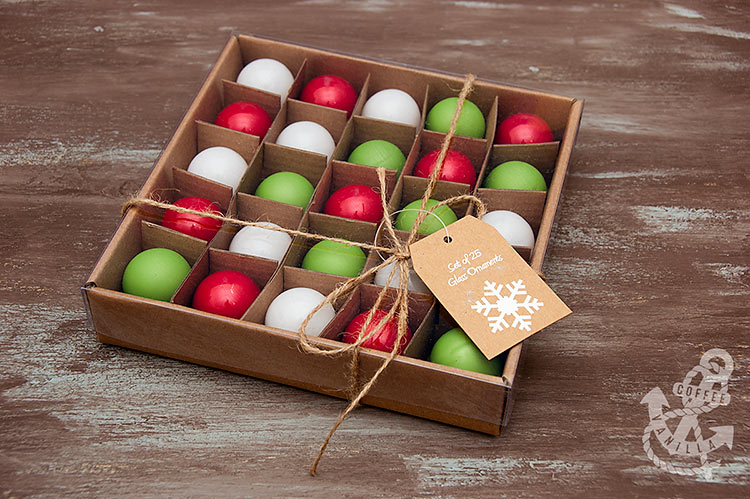 box of small red, white, green small baubles (£3.99 per 25) from HomeSense
Time and again I wonder if our old Christmas box still exists somewhere. Maybe one day we can discover it with my daughters somewhere in the attic of the house in Poland, maybe oneday… or maybe it's lost forever.
But in a meantime we created our own box… which my girls will hopefully excitedly open every winter to discover all over again decorations from previous years.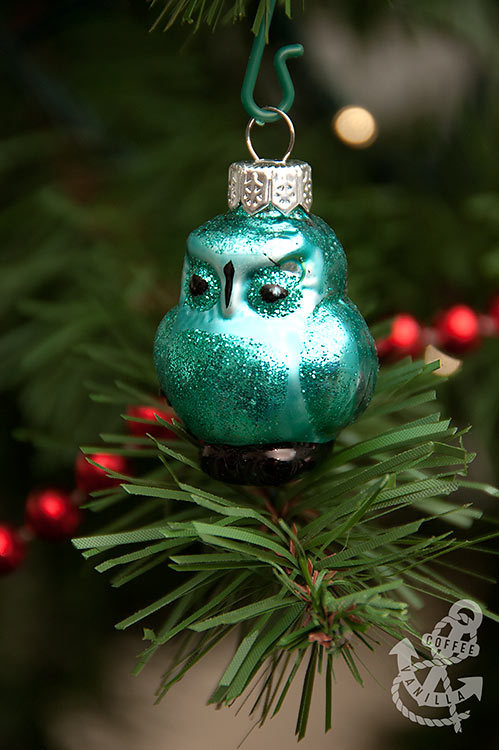 owl shaped glass ornaments (£3.99 per 6) from HomeSense
It's also a tradition in our house to leave out milk and cookies for Santa and some carrots for Rudolph.
As a child I had no clue about Santa or Rudolph for that matter. Christmas was all about family time not the gifts and we were aware our parents had to buy them so this is new to me but I continue eating carrots while my husband eats the cookies with milk on the Christmas Eve to keep the kids happy. The older one of course knows that it is us eating it up, but as long as the little one still believes in Christmas magic we will continue doing this…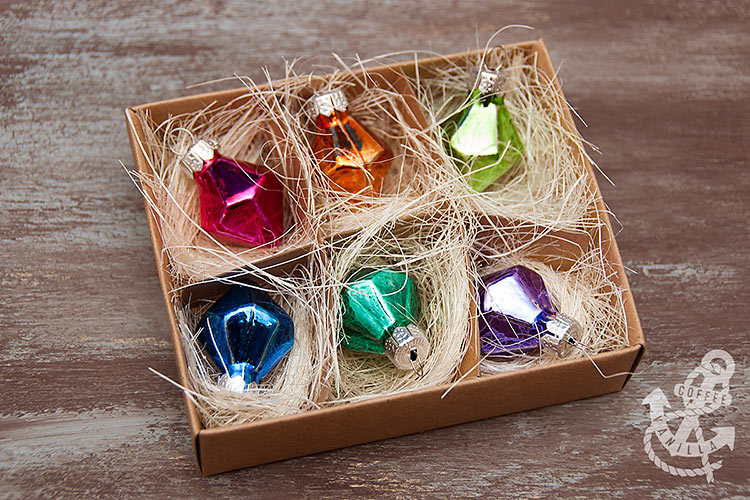 diamond shaped glass ornaments (£3.99 per 6) from HomeSense
Usually we bake cookies on the Christmas Eve day but this year I got this tin of lovely festive cookies for Santa in HomeSense along the ornaments and beautiful, giant mushroom that now grows under our Christmas tree.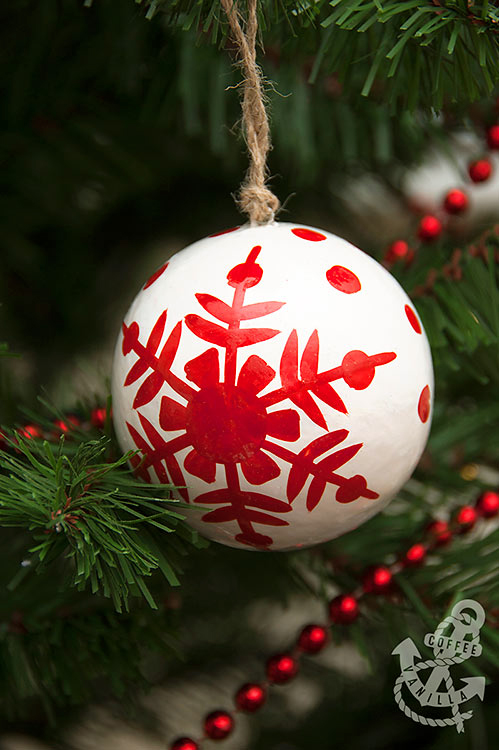 hand-painted red & white baubles in wooden box (£7.99 per 4) from HomeSense
Another thing we have started with my daughters and husband is opening presents on the Christmas morning, often  in pyjamas (!) In Poland we used to unwrap presents on the Christmas Eve, once the first star appeared on the sky. Then we would have formal Christmas Eve supper with 12 dishes…
We do not continue this tradition, it is unpractical and require too much preparation. Instead we have simple Christmas dinner with our favourite bits, roasted potatoes, sometimes roasted turkey but definitely not 12 dishes. Usually there are some Polish foods included, like the traditional vegetable salad or cheesecake and something from island of Dominica too, especially the sorrel drink.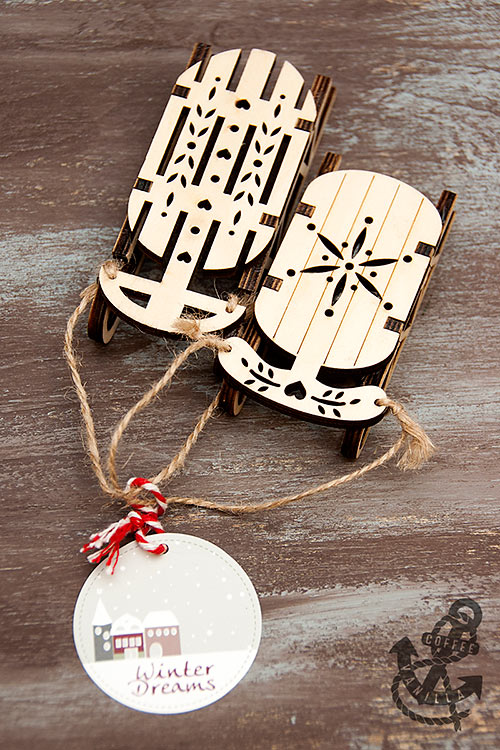 wooden sledge decorations (£2.99 / pack of 2) from HomeSense
We  gave up having real tree since we moved to Brighton and last year we got our first (ever) artificial tree. While still in London we used buy real trees, potted and afterwards put them in the back garden. We don't have a garden at the moment so we decided to get a fake tree, and to be honest it is not that bad but I'm missing pine tree scent a bit.
I also remember pre-Christmas house cleaning drama and fight over the gifts with my sister but that is for another post perhaps…
And what are your childhood Christmas memories? Do you have any special Christmas ornaments that you cherish?
NOTES
In case that you are not familiar with HomeSense they are part of the same retail group as TKMaxx and you can find their goodies across both of those stores.
Some of our Christmas recipes can be found here.
DISCLOSURE: This post has been commissioned by HomeSense. All opinions (and memories) expressed here are our own and we retained full editorial control.