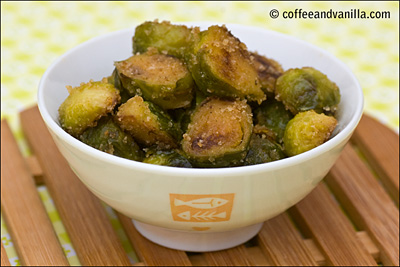 INGREDIENTS
500g Brussel sprouts (halved)
2 tbs olive oil
½ cup of water
2 tbs of unsalted butter
2 tsp golden caster sugar – optional
sea salt to taste
4-6 tbs fine bread crumbs
EQUIPMENT
wok or large frying pan with cover
METHOD
Place Brussels sprouts on the frying pan/wok with oil. Stir fry for a while until browned.
Then add water and cook covered until soft to your liking and all water is gone.
Season to taste with salt and optionally sugar, stir in butter and continue heating only until butter is melted.
Add breadcrumbs, heat only few minutes longer until bread crumbs are crunchy.
Serve immediately.
Serve 4 people as a side dish.