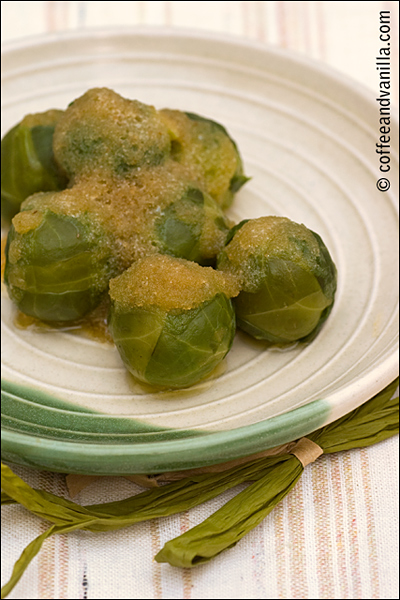 INGREDIENTS
1 kg fresh Brussels sprouts (ugly leaves discarded)
large pot of boiling water (salted and sugared to taste)
½ cup of breadcrumbs
125g /½ bar unsalted butter
sugar and salt to taste
METHOD
Boil Brussels sprouts in salted and sugared water until soft to your liking.
In meantime in a small saucepan melt the butter combined with breadcrumbs, season to taste with salt and sugar.
When Brussels sprouts are ready top them with breadcrumbs and enjoy.
Serves 4 people.
NOTES
Brussels sprouts are very popular dish here in UK during Christmas dinner, often served while still firm and prepared with nuts, such as chestnuts, hazelnuts or walnuts and bacon.
I must admit I like them much better Polish way (maybe not the most healthy but my favourite way) and the most important my kids love them this way as well: boiled until very soft and topped with generous amount of breadcrumbs.
Looking for more fancy way to serve Brussels sprouts?
Why not to try Jeanne's Brussels sprout gratin with cheese and bread crumbs…
or sautéed Brussels sprouts instead?