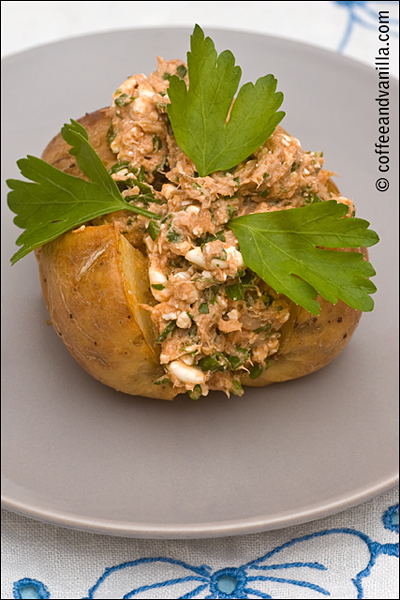 INGREDIENTS
4-6 baking potatoes – about 1½ kg
for the cottage cheese & smoked mackerel paste
300 g smoked ready to eat mackerel (skin and bones discarded)
300 g light cottage cheese
½ cup chopped chive – optional
chopped parsley or  some fresh or frozen dill to taste
2 tbs tomato puree, tomato sauce to taste or some hot sauce
black peppercorns
1 tbs thick cream or mayonnaise – optional
METHOD
Make cross cuts on the top of each potato and bake in 200°C (392°F) for about 1 hour – 1½ hours. Use skewer to check if potatoes are soft inside.
In meantime chop herbs, combine them with cottage cheese, mackerel, tomato puree and mix well. Season to taste with freshly ground pepper. If the paste is too hard to mix add some cream or mayonnaise.
When potatoes are ready open them a little bit and top with the paste. Serve immediately with some salad on a side.
Makes 4 servings.
NOTES
I served it with tomato and sour cucumber salad.
This paste can be also used as a sandwich filler.