Summer has finally arrived… with a bit of thunder storms (and hail stones) but the weather is definitely getting warmer.
If you are planning any garden parties, this finger-licking good, classic BBQ Honey Chicken recipe may come very handy. Sweet honey marinade with mustard and soy sauce will work perfectly not only for chicken skewers but also fish or even grilled veggies alone.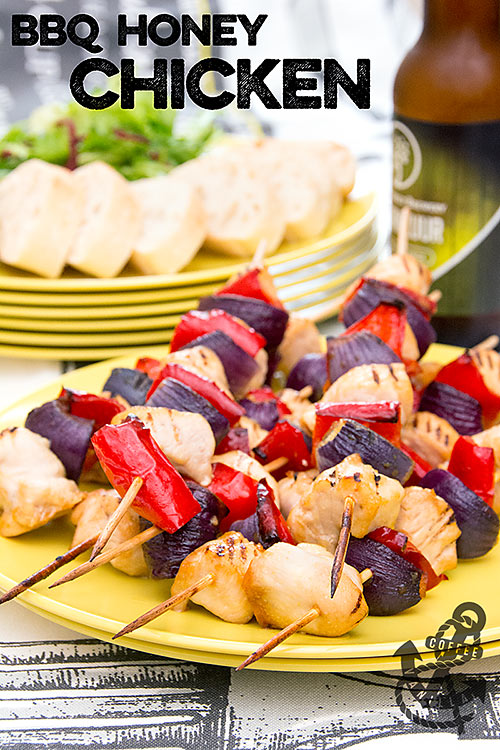 Our entire family loved this dish, even the kids that are usually rather picky.
We adapted this recipe from the House of Fraser that was neatly printed on one of their BBQ tea towels from Linea range.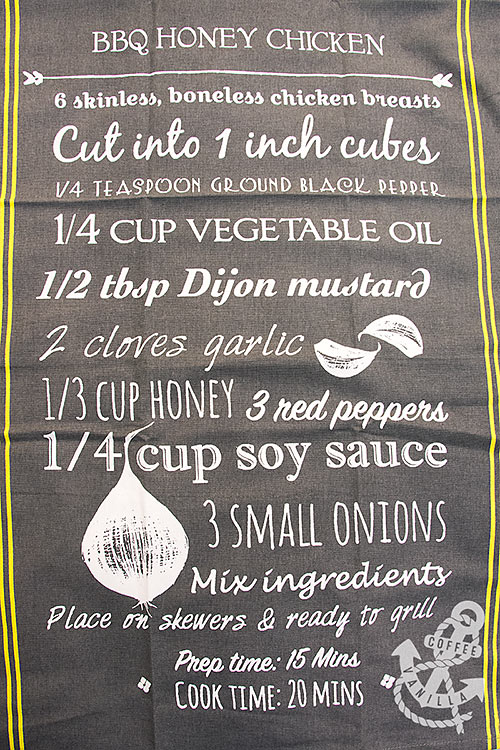 Along with the towels we got also silicone spoon and tongs, matching apron with oven glove and pretty melamine dinner plates.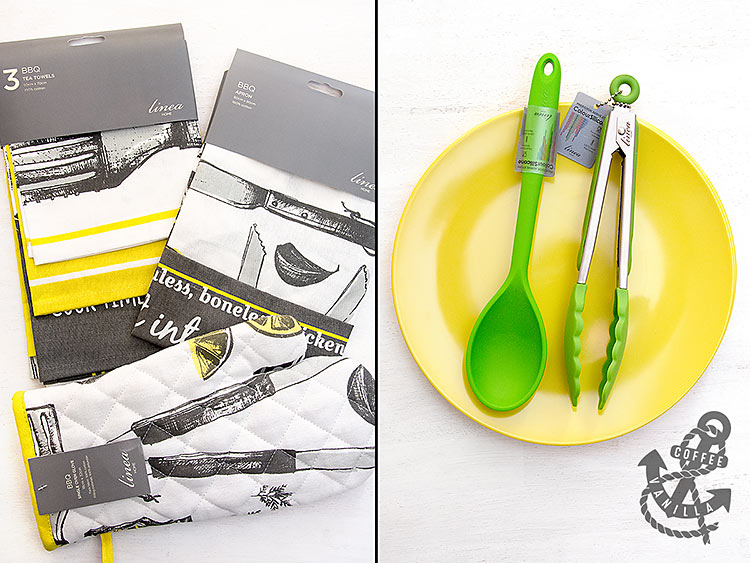 INGREDIENTS
6 skinless and boneless chicken breasts / about 750 g (cut into 2½ cm / 1 inch cubes)
¼ tsp ground black pepper
¼ cup vegetable oil
½ tbs Dijon mustard
2 garlic cloves (crushed)
1/3 cup runny honey
3 red peppers (cut into 2½ cm / 1 inch pieces)
¼ cup soy sauce
3 small onions (cut into wedges)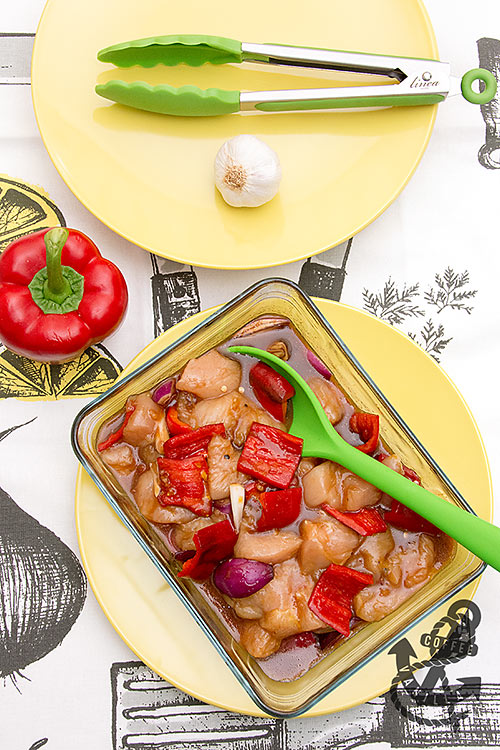 EQUIPMENT
about 10 wooden skewers (soaked in water for couple of hours)
grill or baking tray and oven with grill option
mixing bowl or other dish to marinade the ingredients
spoon and tongs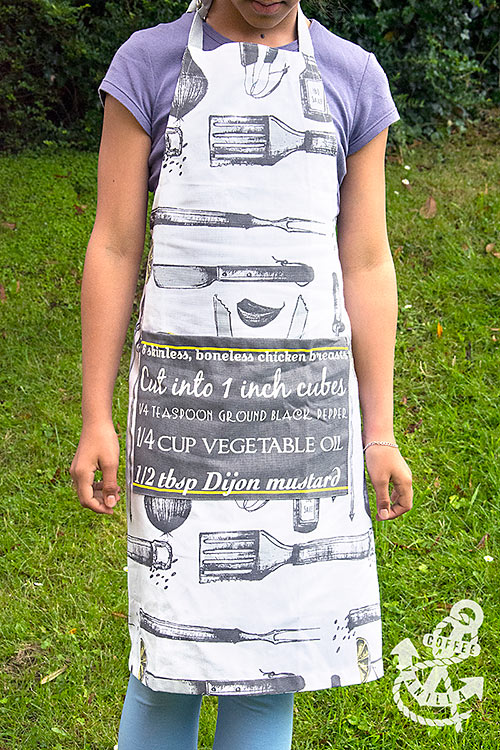 METHOD
Mix ingredients and marinade for at least 15 minutes, the longer the better.
Place on skewers and grill for about 20 – 30 minutes.
Serve with some salad and fresh bread on a side.
Makes about 10 skewers and serves 4 – 5 people.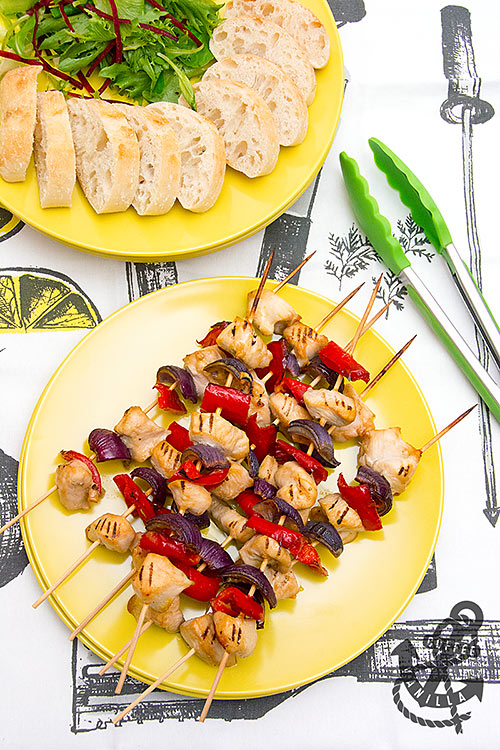 TIPS
If you are using frozen chicken breasts, defrost them properly before adding the marinade, otherwise it will get too watery.
If the weather is not great you can always grill the skewers in the oven at 200°C (392°F).
We used red onions but white onions will work here as well.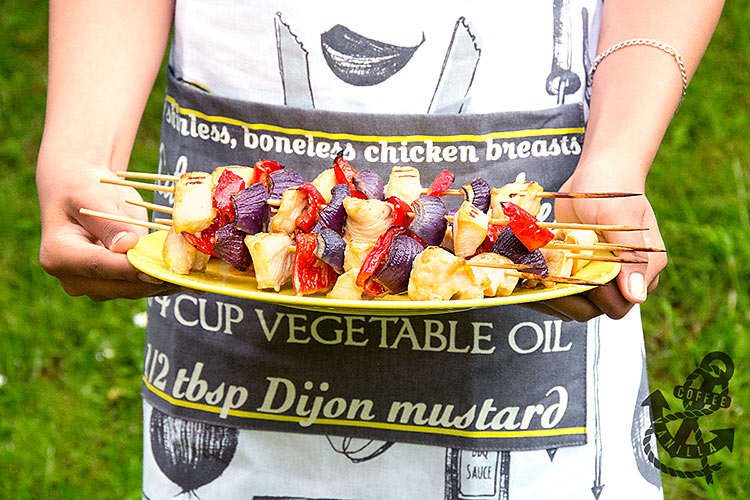 NOTES
If you are looking for more BBQ recipes take a look at Oven Baked Brazilian BBQ Chicken with Coconut Rice, Mango & Avocado we made while ago, Choclette's Maple Tofu Skewers with Papaya Salsa, Claire's BBQ Sardines with Wild Garlic Salsa Verde and BBQ Sticky Scottish Salmon Kebabs with Sweet Chilli & Honey, Janie's Watercress Salsa Verde with BBQ Mackerel or Camilla's Baked and Barbecued Thai Chicken Thighs.
While BBQ dishes usually go very well with some lemonade, beer or cider, you may want to try something different this time. Our favorite summer drinks include: Homemade Strawberry & Mint Lemonade, Refreshing Watermelon, Lime and Rosemary Drink, Sparkling Cranberry Thirst Quencher with Hint of Vanilla, Gin & Coconut Water Drink – Caribbean Classic, Spiced Cuban Classic – The "No Problemo" Mojito, Gin & Tonic with Mint, Lime and Blueberries or Polish Style Beer with Raspberry Syrup.
And for dessert why not try Claire's BBQ Waffle S'Mores.
DISCLOSURE: This is commissioned post for the House of Fraser. All opinions expressed here are our own and we retained full editorial control.