I'm not quite ready to give up on summer, even if it means "barbecuing" in the oven.
In this recipe I tried ready BBQ marinade mix from Schwartz's Grill Mates range that comes in a sachet as powdered spices that need to be mixed with oil and vinegar (I used lime juice instead) and then used to marinade chicken or meat for at least 15 minutes. I prepared it in advance and left chicken drumsticks in the Brazilian BBQ marinade overnight in the fridge. Then baked them in the oven, the result was truly mouthwatering! Everyone loved it, even the kids despite the fact that Brazilian BBQ mix is a bit spicy.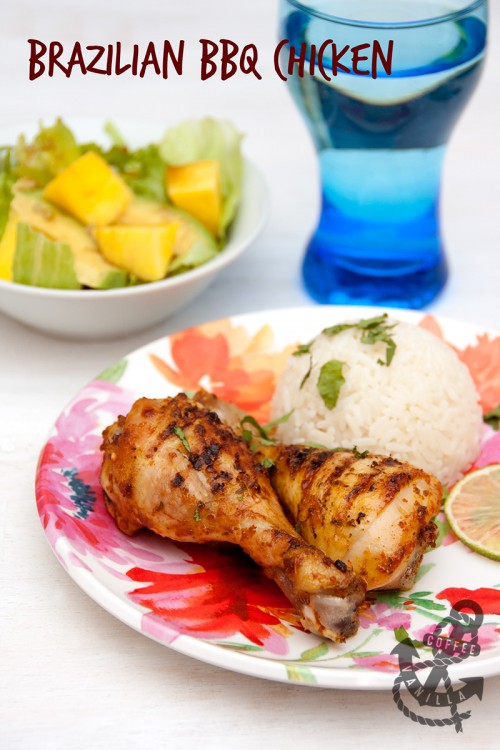 INGREDIENTS
for the coconut rice
2 cups easy cook long grain rice
400 g tin of coconut milk / 2 cups
2 cups of boiling water
1 tsp sea salt
to serve
mangos or avocados (sliced) or even better some juicy Brazilian-style Mango & Avocado Salad with Lime Dressing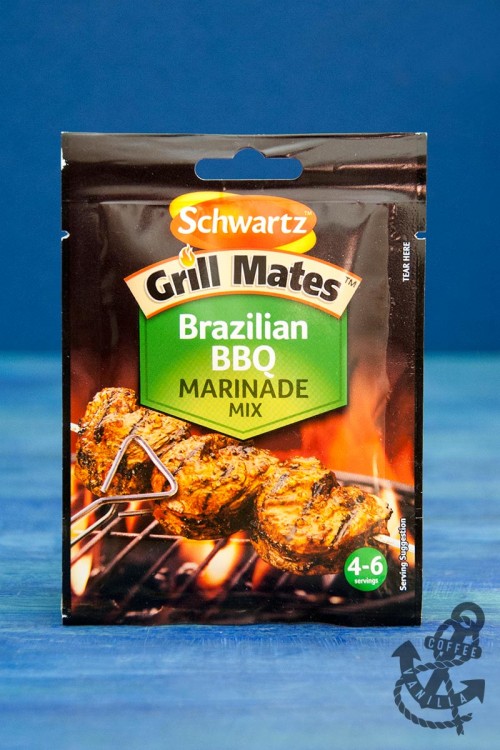 METHOD
Prepare marinade combining spices from the sachet with olive oil and lime juice.
Use it to marinade chicken for at least 15 minutes, best overnight.
Preheat the oven to 200°C (392°F).
Place chicken in a baking dish and place in the oven, bake for about 45 minutes – an hour (depending how big the pieces are).
Save the marinade to add to the baking dish later, half way through the baking while turning the chicken.
In meantime in a lidded pot cook the rice with water, coconut milk and salt until ready.
Slice also avocados and mangoes or prepare the salad.
Once the chicken is ready serve it to the plates with coconut rice and salad on the side.
Sprinkle with freshly chopped coriander and enjoy.
Makes 4 – 5 servings.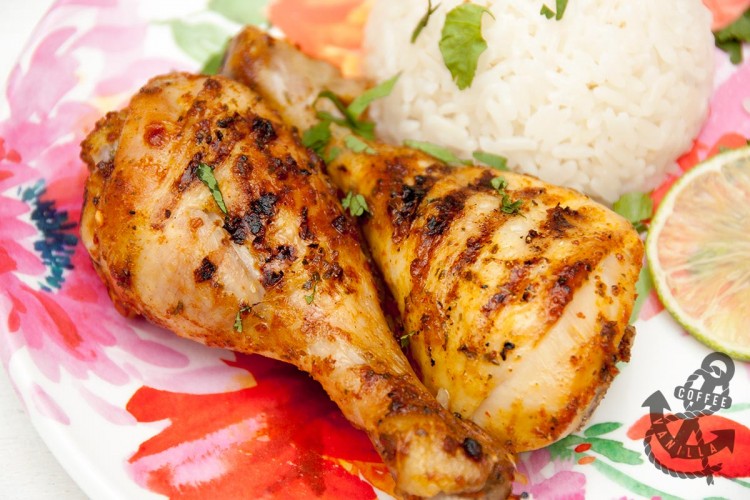 NOTES
Schwartz's Grill Mates come in other interesting flavours, such as: Cajun Marinade Mix, Sticky BBQ Glaze, Italian Herb Grilling Oil, Mojito Lime Marinade Mix, Mediterranean Smoked Paprika and Garlic Grilling Oil or Sweet and Mild Indian Grilling Oil, just to mention few from over 30 products in the range.
If you are looking for more cooking ideas with Schwartz take a look at Camilla's Cajun Chicken Fajitas, Dannii's Indian Chicken and Mango Salad or Jan's BBQ Mojito Lime Pineapple.
DISCLOSURE: We have been commissioned by Schwartz to develop recipe using their spices. All opinions expressed here are our own and we retained full editorial control.