[recipe adapted from my friend Nora at Life's Smörgåsbord]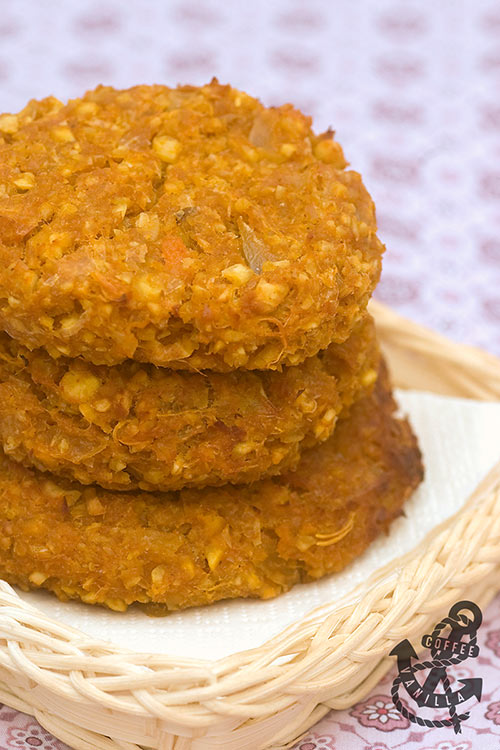 INGREDIENTS
1 kg sweet orange potatoes (peeled, chopped, cooked in water and drained)
500 g / 2 cups dry chick peas / chickpeas / garbanzo beans (cooked for about 2 hours and drained)
2 – 3 onions / 500 g (chopped finely)
few garlic cloves (crushed or chopped finely)
⅓ cup chopped fresh / frozen coriander
1 tsp ground coriander seeds
1 tsp cumin powder
1 tbs paprika
½ – 1 pinch Cayenne pepper
6 or more tbs plain flour
olive oil spray or olive oil plus silicon brush
salt to taste
2 packets of Sazón (original flavour) – optional
sweet chilli sauce or tahini yogurt sauce (to serve)
EQUIPMENT
Telfon sheets
baking trays
METHOD
Mash cooked previously sweet potato and chick peas. For the second one you may need to use food processor.
Fry onions and garlic for a while in a little bit of olive oil.
Combine potato, chick peas, coriander and onion mixture in a large bowl.
Add spices, Sazón, salt to taste and at the end enough flour to stick all mixture together.
Scoop out with even portions of the mixture, shape in your hands and place on baking trays lined with Teflon non stick sheets.
Spray with olive oil spray or brush with olive oil.
Bake in preheated oven to 180°C (356°F) for about 30 minutes, turning once half way, and spraying the other side of patties as well.
Serve with sweet chilli sauce or tahini yogurt sauce.
Makes 25 patties / 60 ml each.
NOTES
If you are looking for more chick pea recipes take a look at Moroccan Style Hummus with Caramelized Onions and Roasted Peppers, Roasted Veggetables with Tortellini and Chick Peas or Homemade Smoked Paprika Hummus.
More recipes calling for sweet potatoes: Mexican Style Roasted Sweet Potato & Mixed Bean Wraps, Kids' Favourites – Simple Roasted Sweet Potatoes or Boiled Sweet Potatoes.