[inspired by Mexican Three Bean Wrap from M&S]
Those are very healthy, vegetarian, low in calories wraps that taste delicious as well. They are perfect for summer parties, lunch boxes and picnics.
INGREDIENTS
450 g sweet potatoes – about 2 (peeled and cubed)
450 g tomatoes (cubed)
2 tbs Carotino oil
handful or two of freshly chopped coriander
420 g tin of red kidney beans (drained)
410 g tin of black eye beans (drained)
chilli sauce to taste
zest of half unwaxed lemon or lime
200 g mild cheese (grated)
small leek (cut lengthwise, washed and chopped)
8 – 10 lettuce leaves
8 – 10 large tortilla wraps
300 g cream cheese with chives
sea salt to taste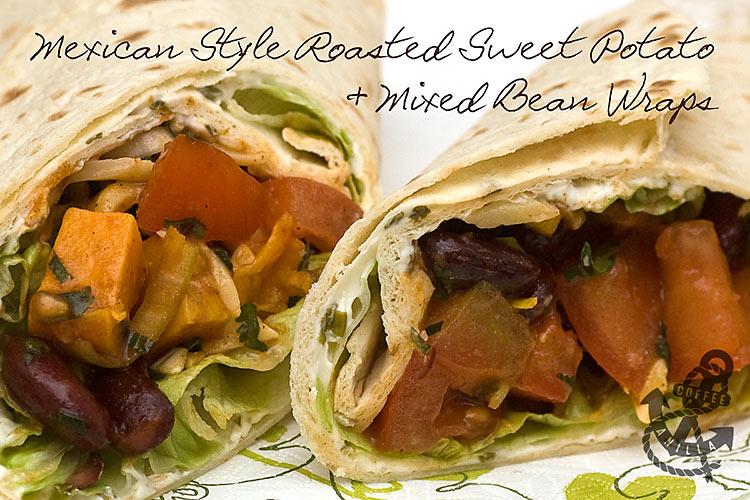 METHOD
Combine cubed potatoes with oil and roast in the oven preheated to 180°C (356°F) until soft.
In meantime mix tomatoes with coriander, beans, chilli sauce, lemon zest, mild cheese and leek.
Add also roasted sweet potatoes and season with salt to taste.
Spread cream cheese on tortilla wrap, top it with lettuce leave and portion of potato-bean mixture and wrap.
Repeat the same with the rest of the tortillas, cut each wrap in half lengthwise and serve.
Makes 8 – 10 wraps.
NOTES
Instead of 1 tin of red kidney beans and 1 tin of black eye beans you can use 2 tins of three bean salad.