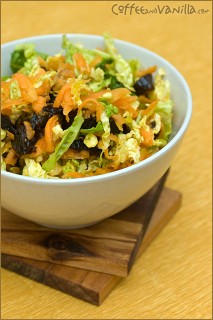 INGREDIENTS
400g green cabbage (chopped)
400g carrots – about 2 – I used organic carrots from Abel & Cole (grated)
2 handfuls of prunes (chopped)
3 tbs extra virgin olive oil
½ lemon juice
3 pinches of salt or to taste
2 tsp or to taste golden caster sugar
handful or two of pecans (toasted and chopped)
METHOD
Combine all ingredients, season to taste with salt and sugar. Keep in the fridge until ready to serve.
Serve 6 people as a side dish.

Abel & Cole is a company that deliver to your door organic, seasonal food. Their products come from over 120 British farmers, bakers and producers – as well as some further afield (for Fairtrade bananas, coffee and chocolate). But they never air freight!