Pierniczki are traditional cookies from Poland made with honey, it is a Polish version of gingerbread. Homemade pierniczki are must have during Christmas season but ready, store bought ones are enjoyed all year round.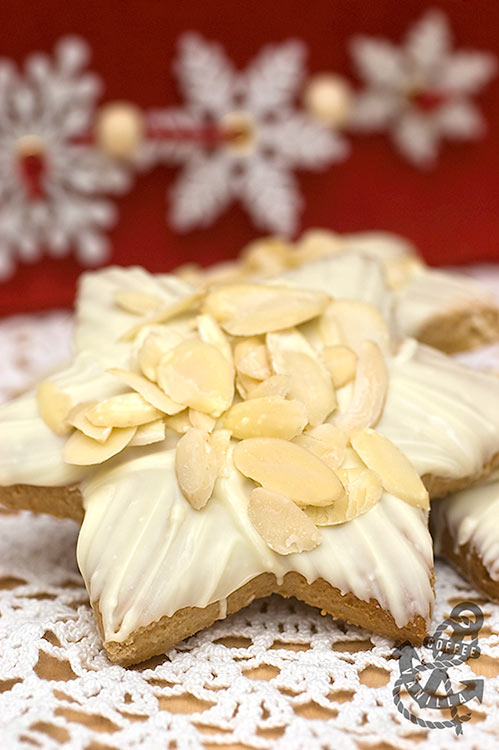 INGREDIENTS
4½ – 5 cups plain flour
1 cup ground almonds (about 100g)
400 g mixed local honey
1 cup soft dark brown sugar
¼ bar unsalted butter (about 65g)
2 eggs
1 tsp baking soda
½ tsp ground cloves
1 tsp ground cinnamon
1 tsp ground ginger
1 pinch of ground black pepper – optional
½ tsp ground nutmeg
more flour for working surface
for the decoration
300 g chocolate, white and/or dark chocolate
150 g almond flakes
EQUIPMENT
baking tray lined with non-stick Teflon sheets or baking paper
baking paper for baked cookies
silicone brush
rolling pin
cookie cutters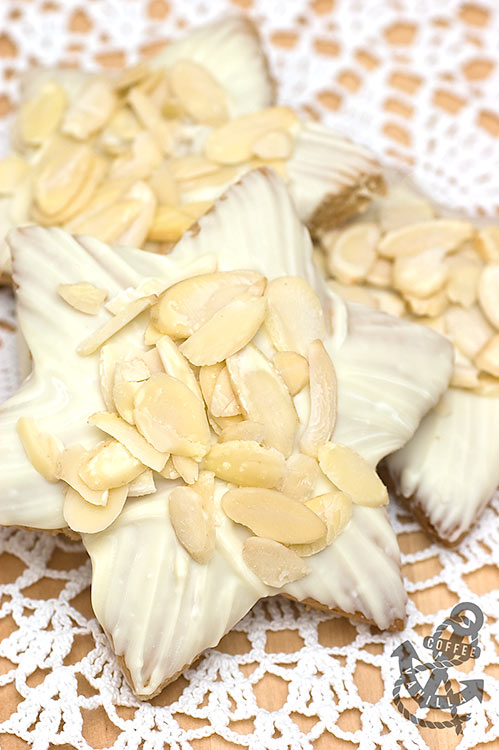 METHOD
Combine honey, sugar, butter and spices and heat over low fire until melted and bubbling.
Leave aside to cool down a little bit.
In a mixing bowl place baking soda, ground almonds, 4½ cups of flour and eggs, add also honey mixture and knead the dough.
Stir in additional half a cup of flour if necessary.
Dough should be soft but not very sticky.
Roll on the floured surface to about ½ cm thick, cut out shapes with cookie cutters and place on baking trays lined with Teflon sheets or baking paper.
Bake in 200°C (392°F) for about 10 minutes or until golden brown.
Place on baking paper and leave to cool down completely.
When cookies are cold, melt the chocolate in a small saucepan or in a microwave.
Use it to brush the cookies and immediately sprinkle them with almond flakes.
Leave to cool down completely.
Store in a cookie tin for a week or even two.
Makes about 45 medium cookies.
TIPS
Pierniczki taste the best after few days when the flavours will get a chance to develop.
NOTES
Pierniczki came out almost the same like I remember from my childhood… only could be a little bit more spicier and a little darker (I will try to use darker honey next time), but kids loved them anyway.
They were soft like they should, at least for the first 9 days… they did not survive longer.
Some people compare pierniczki to gingerbread cookies but they are not the same thing, pierniczki have much softer texture and they are tasting more of clove and honey than ginger.
I'm adding this to the Inheritance Recipes link-up that we co-host together with Solange of Pebble Soup. December Inheritance Recipes is hosted by Solange.