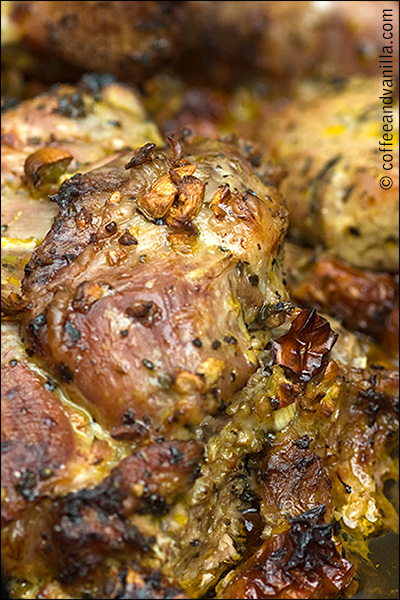 INGREDIENTS
1500g turkey thigh joints
for the marinade
½ cup orange juice
½ cup chopped sundried tomatoes  from oil
3 tbs olive oil, Carotino oil or oil from sundried tomatoes jar
1 tsp dried oregano
2 tsp dried basil
6 garlic cloves (chopped)
1 tsp sea salt
EQUIPMENT
large roasting tray, non-stick or lined with non-stick Teflon sheet
skewer
aluminium foil
METHOD
Place turkey in a container or freezer bag.
Combine all ingredients for marinade and pour over turkey, close tight and keep in the fridge overnight.
Next day place turkey together with the marinade on roasting tin, cover with the aluminium foil and bake in the oven preheated to  180°C (356°F), turning from time to time, until almost ready.
Remove aluminium foil towards the end and bake some more.
Check with the skewer if the turkey juices are running clear.
Share to the plates and pour over some gravy.
You may also chop now the turkey and mix with the gravy and then share to the plates.
Serves 5-6 people.
More poultry & orange combo recipes:
Charred orange duck breast with  Cointreau sauce by Cook Sister