[inspired by Kalyn of Kalyn's Kitchen]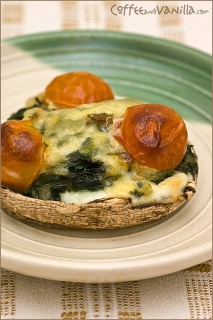 INGREDIENTS
10 portobello mushrooms (about 500g)
300g fresh spinach (washed, drained and chopped)
1 onion – 200g (chopped)
3 tbs olive oil
15 cherry tomatoes – about 250g (halved)
2 x 150g fresh mozzarella balls (drained)
black peppercorns
sea salt to taste
100g mature Cheddar (grated)
METHOD
Place mushrooms on non-stick baking tray, top them with sliced mozzarella.
In meantime fry chopped onions on oil until golden brown, add also chopped spinach and fry some more until there is no more liquid. Season with salt. Top each mushroom with portion of spinach mixture. Sprinkle with grated Cheddar and freshly ground pepper. Decorate each mushroom with three halves of tomatoes.
Place tray with mushrooms under the grill at  160°C (320°F) or with both stove and grill on for about 10 minutes or until cheese is melted and bubbling.
Serve 5-10 people as a side dish.
If the mushrooms have long stems, cut them off and chop them, fry together with spinach onion mixture.