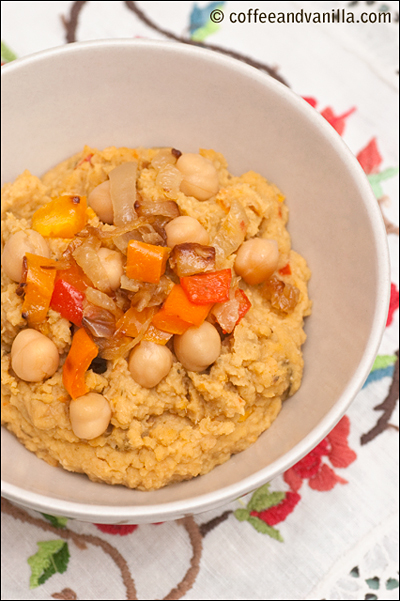 INGREDIENTS
1-2 red/orange bell peppers (cubed)
1 large onion (chopped)
2 tbs unsalted butter
400g tin of chick peas / garbanzo beans (drained)
½ lemon juice
½ tbs ground cummin
½ tbs garlic powder
pinch of Cayenne pepper
2 tbs freshly chopped coriander (or parsley)
½ tsp turmeric / curcuma for colour – optional
sea salt to taste
few tbs of boiled water (or more oil)
EQUIPMENT
hand blender / food processor
METHOD
Place cubed peppers on baking tray and bake in the oven preheated to 200°C (392°F) until browned, leave aside.
In meantime caramelize onions on butter.
Then blend all ingredients together, except salt, adding a little bit of boiled water or more oil if the consistence is too thick.
Finally season to taste with salt and serve chilled with some fresh crunchy bread or on the top of crumpets.
Make 1 cup of hummus.
NOTES
Taste good also with pasta.
More Moroccan style recipes:
Jeanne of Cook Sister made spicy Moroccan chicken tagine for both starfish and corpse sleepers ;)
She made as well Moroccan roasted vegetables with couscous…
and Moroccan lamb shank tagine with Ras el Hanout and apricots.