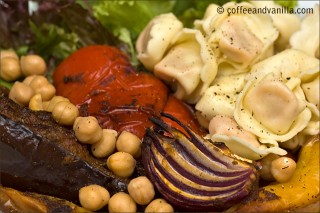 INGREDIENTS
500g aubergines / eggplants (3 medium-small aubergines)
500g of mixed sweet peppers (red bell peppers, sweet banana peppers etc.)
2 red onions
½ jar of green pesto (100g)
½ jar of chopped tomatoes (200g)
2-3 tbs of olive oil or Carotino
sea salt
black peppercorns
600g spicy pepper and tomato tortellini
400g tin of chick peas (drained)
100g mixed salad leaves (red chard, red and green lettuce, lambs lettuce, radicchio, mizuna etc.
200g baby plum tomatoes – optional
EQUIPMENT
two baking trays or dishes
large pot
METHOD
In a bowl combine tomatoes with pesto.
Cut aubergines lenghtwise, place on the baking tray, aubergines open side up, sprinkle with salt then pour over tomato and pesto sauce. Deseed peppers and cut them coarsely, cut red onions in wedges, combine with olive oil, season with salt, place on second baking tray.
Bake in for about 45 minutes in 200°C (392°F).
Few minutes before veggies are ready, prepare tortellini according to the instructions on the package, usually cook them in boiling water for about 4-5 minutes, drain and leave aside.
Share salad leaves to the plates, top them with baked vegetables, tortellini and chick peas, season with freshly cracked pepper and serve immediately.
Serve 4-6 people.