Growing up my mum's rice cakes were one of my favourite dinners… simple and delicious.
My girls usually don't have problem with any foods but frozen white fish fillets were definitely not their favourite, until recently. Turning them into white fish & rice cakes was a very good idea (!) They were asking for more and more, even the next day.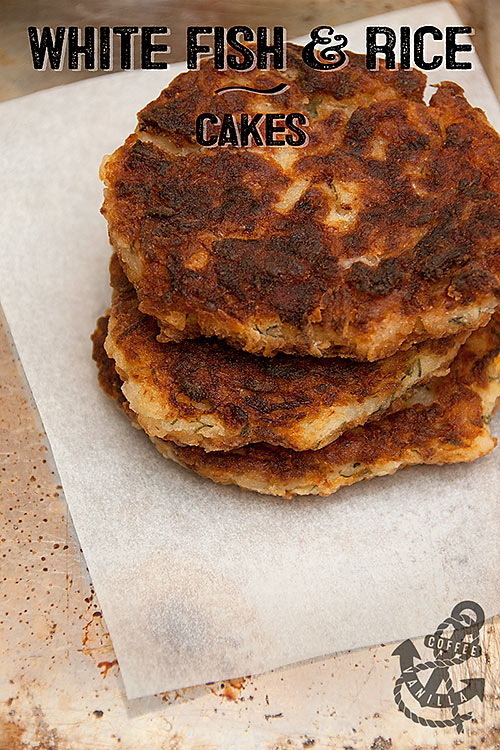 INGREDIENTS
1 kg frozen white fish fillets
2 cups of rice (we used broken basmati rice)
3 cups of boiling water
4 cubes (10 g each)
handful of chopped dill (fresh or frozen)
3 – 4 eggs (lightly beaten)
sea salt – to taste (optional)
2 cups cooking oil (we used rapeseed)
2 cups plain flour (for rolling)
to serve
dipping sauce
veggies or green salad
EQUIPMENT
large pot with lid
frying pan
paper towels (for draining)
potato masher
two spatulas
METHOD
In a large pot place fish, rice, boiling water and cubes and cook covered until rice is ready.
Use potato masher to make the whole mixture smooth and break any bigger fish pieces.
Season to taste with salt, if necessary and leave aside to cool down.
Add also dill and eggs.
If the mixture is too runny, do not panic, just add a bit of the flour to make it more sticky.
Prepare some flour in a flat bowl, for rolling.
Heat the frying pan with generous amount of oil.
With a table spoon take heaped portions of the rice mixture, roll in flour, place on frying pan and flatten with spatula.
Roll more fish cakes until there is no more space on the frying pan.
Use second spatula to turn the fish cakes over, fry some more until golden brown on both sides.
One by one, remove cakes from frying pan and place on the plate lined with paper towel, to drain excess oil.
Add more oil to the frying pan and repeat the steps with the rest of the mixture, until there is no more left.
Serve fish cakes while still warm and crunchy.
Makes about 34 – 36 fish cakes, allow about 6 per serving.
TIPS
Serve your fish cakes with some dipping sauce on side: tartare sauce, chilli sauce, avocado and cream dip, BBQ sauce, ketchup, hot sauce, sour cream with garlic or chive.
Those fish cakes taste really good with some roasted root veggies on a side, roasted corn, stir fried green beans or green salad.
Any leftover fish cakes can be easily stored in air tight container in the fridge and then reheated on non-stick frying pan next day, without using any more oil.
NOTES
More fish and rice cakes we made previously: Fish & Rice Cakes and Tuna Rice Cakes aka Tuna & Rice Mini Burgers.
If you are looking for interesting fish cakes recipes take a look at Bulgur What and Quinoa Fish Cake Recipe from Franglais Kitchen or Salmon Rosti Noodles from Emily's Recipes and Reviews.
I'm adding this recipe the Inheritance Recipes challenge that we have just started together with Solange of Pebble Soup. February IR is hosted by Solange, please come and join us, share your inherited recipes!