Vegetarian toad in the hole turned out to be such a big hit in the family that we decided to try making it with something other than veggie sausages…
The butternut squash worked very well here, both in vegetarian version without anything else and in regular toad in the hole with real sausages and butternut squash as an addition only (for those in our house who can't live without meat).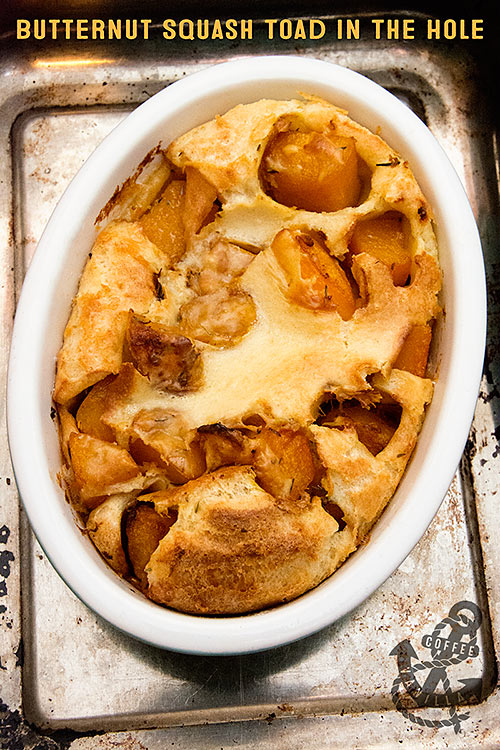 INGREDIENTS
medium butternut squash (peeled, cubed)
cooking olive oil (about 6 tbs)
1 tsp garlic powder or some fresh garlic (chopped)
1 tbs dried thyme or some fresh one
sea salt – to taste
green salad – to serve
cheese (grated) – to serve
for the Yorkshire pudding batter
1¾ cup of plain flour / 250 g
5 medium eggs
1¼ cup of milk / about 315 ml
EQUIPMENT
large, oven proof dish or couple smaller ones (we used two medium dishes and two smaller, individual ones for kids)
frying pan
ladle (to spoon the batter)
METHOD
Preheat oven to 200°C (392°F).
On a frying pan fry butternut squash with seasonings and half of the oil, until golden brown.
Brush with rest of the oil ovenproof dish(es) and arrange ready butternut squash on the top.
To prepare the batter simply whisk all of the ingredients together.
Spoon the batter over the butternut squash and place dish(es) in the oven.
Bake for about 35 – 40 minutes longer until the sides has risen and are browned.
Share to the plates, sprinkle with cheese and serve with some green salad on the side.
Serves 4 – 6 people. 
NOTES
Alternatively use mixture of butternut squash and sausages (regular or vegetarian ones) to make this dish or different veggies, as long as they are not too watery they should work well in this recipe.
I'm sending this recipe over to the Recipe of the Week link-up by Emily of A Mummy Too blog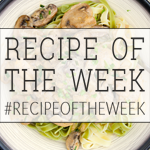 and Dominic's from Belleau Kitchen Simply Eggcellent event.