This is a lazy way of preparing Polish sorrel soup, using ready chopped sorrel from the jar rather than fresh one. On the positive note, this way it can be enjoyed all year around, not only in Summer.
For traditional (my mum's) version take a look here:  Polish Sorrel Soup from Scratch.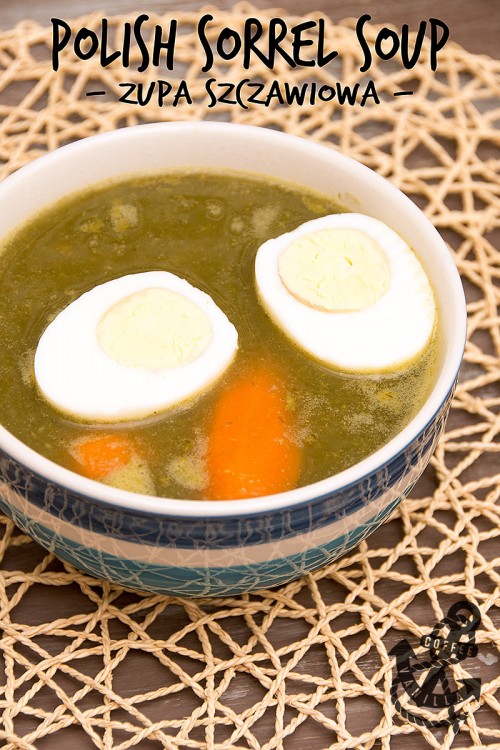 INGREDIENTS
about 3 l of boiling water
4 large vegetable cubes (10 g each)
280 g jar of chopped sorrel
750 g potatoes (peeled, cubed)
2 – 3 carrots (peeled, halved lengthwise)
1 parsnip (peeled, halved lengthwise)
few garlic cloves (chopped) or some garlic powder
4 tbs olive oil
sea salt – to taste
black peppercorns
hard boiled eggs – to serve
soured cream – to serve
METHOD
To the large pot add cubes, boiling water, carrots, parsnips, potatoes, olive oil and garlic.
Cook until potatoes are ready.
Stir in chopped sorrel and cook couple of minutes longer.
Season to taste with salt and freshly cracked pepper.
Share to the plates.
Serve topped with dollop of sour cream and halved hard-boiled eggs.
Makes 6 servings.
NOTES
More Polish recipes.
More soup recipes.