This is one of those soups I have never made before myself, but it accompanied my entire childhood. Obtaining fresh sorrel in UK is not an easy task, I only managed to achieve it this once… I called my mother and with her help, over the phone, we made this soup.
It turned out less sour than I remember from my memories, maybe the sorrel was different variety than the Polish one.
INGREDIENTS
600 g fresh sorrel leaves – about 1000 g before discarding stems and flowers (washed and drained)
25 g unsalted butter
4 vegetable cubes (10 g each)
2½ l of boiling water
black peppercorns
Vegeta (vegetable seasoning), other powdered vegetable stock or sea salt
3 – 4 tbs potato flour
½ cup cold water
1 cup soured cream
12 hard boiled eggs (peeled) – to serve
1200 g potatoes – to serve
EQUIPMENT
potato masher
3 pots: one for soup, one for eggs, one for potatoes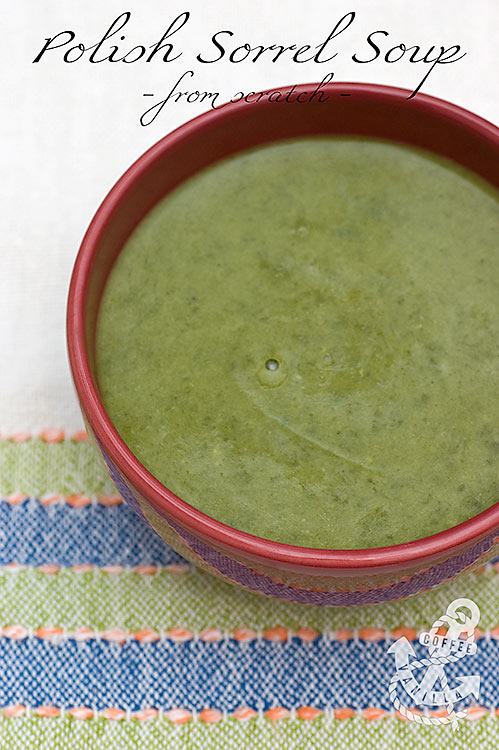 METHOD
Chop sorrel leaves and fry on butter on the bottom of large pot, only until witted.
Add vegetable cubes and boiling water. Reduce fire and cook covered until sorrel is not bright green any more, about 30 minutes.
In meantime (in separate pot) boil potatoes, then add half of the soured cream and Vegeta to taste and mash them. Leave aside.
Season soup with freshly ground pepper and the rest of soured cream. Optionally blend it using hand mixer.
Dissolve potato flour in cold water and add to the soup, bring back to boil and simmer for two more minutes.
Share soup to the bowls.
Serve with potatoes and eggs on a side.
Serves 6 people.
NOTES
In different places of the World sorrel can mean different thing, in the Caribbean for instance it is name for hibiscus.
The sorrel I used here it is Rumex acetosa L. It is similar to spinach but its leaves have different, arrow like shape. Sorrel should not be eaten too often as it can cause kidney stones.
For easier version of this soup, using pre-chopped sorrel from the jar, take a look at Polish Sorrel Soup  (Lazy Way).
I'm adding this recipe the Inheritance Recipes challenge that we have just started together with Solange of Pebble Soup. February IR is hosted by Solange, please come and join us, share your inherited recipes!