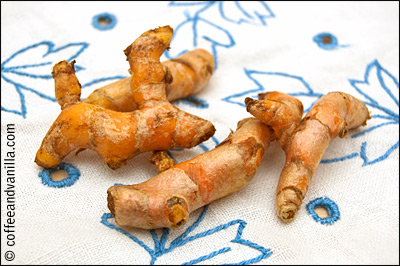 Turmeric (Curcuma longa) also called Curcuma, Indian Saffron, Kurkuma, Haldi, Kunyit, Kunir, Manjal is native to tropical parts of Asia.
It's roots / rhizomes are very similar to those of ginger just smaller with more orange flesh, not without the reason as they both belong to the same Zingiberaceae family.
Turmeric contain 17% manganese, 10% iron and 4% vitamin B6.
Turmeric adding very distinctive flavour to dishes, taste great with many vegetables, especially potatoes and cauliflower. It adds also colour to foods thanks to substance called "curcumin" which is yellow, just like saffron but way less expensive.
In most cuisines powdered turmeric roots are used but in places where you can get turmeric fresh also leaves have use, to wrap and cook food in manner that banana, wine or cabbage leaves in different places.
Also fresh turmeric rhizomes are used in similar way to ginger, as pickles or chunks are added to cooking.
Other uses of turmeric
Helps fight and prevent the cancer.
Anti-inflammatory use in both the Chinese and Indian medicine.
Commonly used to dye saris and Buddhist monks' robes.
Used to scare off the ants.
Paste made out of turmeric is said to improve the skin condition as it has anti-ageing & anti-bacterial properties.
Turmeric gives the skin also nicer, tanned tone and for that reason it is added to some sunscreens.
Used during wedding and various religious ceremonies in India.
Together with annatto (natural red colouring) turmeric is used to give colour to the cheeses, yogurts, seasonings such as curry powder, butter, stock cubes, pickles, mustards, drinks such as orange juice, biscuits, popcorn, sweets, icings, cereals, jellies, sauces etc. It is practically used in all kind of food products we are using on daily basis.
Here are couple of my favourite recipes calling for turmeric:
Red Lentils with Onions & Basmati Rice
Spicy Red Lentil, Curry & Coriander Sauce for Rice
Moroccan Style Hummus with Caramelized Onions and Roasted Peppers
and many more…