[adapted from book "Indian Vegetarian Cooking" by Sumana Ray]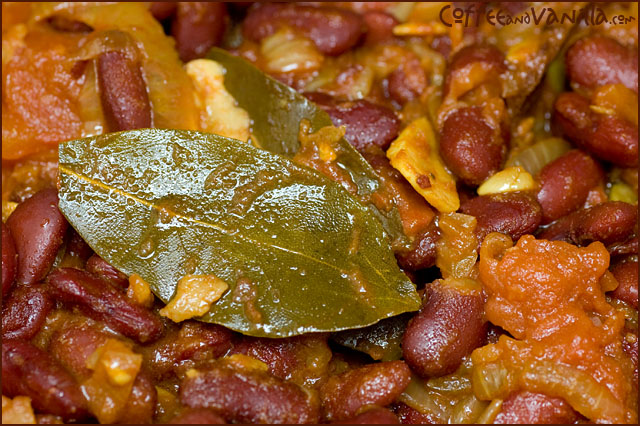 INGREDIENTS
2 cups red kidney beans
6 cups water
⅓ cup oil (I used grape seed oil)
8 bay leaves
10 whole cardamoms (or less crushed ones)
1-2 small cinnamon sticks or 1 tsp ground cinnamon
2 onions (finely chopped)
handful of garlic flakes or 6 garlic cloves (peeled and crushed or chopped)
3 cm (1½ in) ginger root (grated)
2 tsp turmeric
½ – 1 tsp chilli powder / Cayenne pepper
salt
2 x 400g tins of chopped tomatoes or 150g tomato puree plus 2 cups of water
½ cup of water
METHOD
Soak beans overnight in 6 cups of water.
Next day bring boil in the same water, removing any scum that is creating. Cover and cook for about 1 hour till beans are soft, drain and leave aside.
In a frying pan fry prepare spices. Heat the oil and add seasonings: bay leaves, cinnamon, cardamoms and let it sizzle for few seconds. Then add onions, garlic, ginger and fry till golden.
To the pot with cooked beans add turmeric, chilli powder, tomatoes and stir well. Season with salt and cook for 2 minutes. Add water and bring to boil, cover and cook for 10-15 minutes.
Serve as a side dish.
I served it with fried eggs and mashed potatoes.
Serve 4-5 people.
You can break cardamom pods a little bit to let flavour escape or you can peel them and crush seeds in mortar and pestle (in this case use less pods).