One of those rainy half term days my girls have decided that they will be making their favourite Murzynek – Polish chocolate cake, just to find out (half way when butter was already melted and sugar measured) that there is only bread flour and no cocoa powder and in the house. They decided to make it anyway… minus the cocoa powder, instead they topped cake batter with generous amount of Nutella and then swirled everything with a skewer. The cake came out really delicious! It is amazing how sometimes recipes that happen by coincidence are turning out to be the best…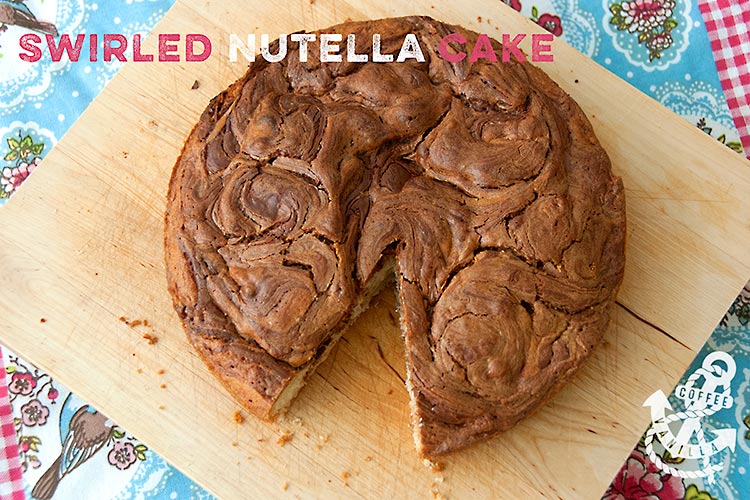 INGREDIENTS
2½ cups strong / bread flour
1 tbs baking powder
3 large – 4 small eggs
1 cup of milk
1½ cups golden caster sugar
250 g of melted butter
about 200 g of Nutella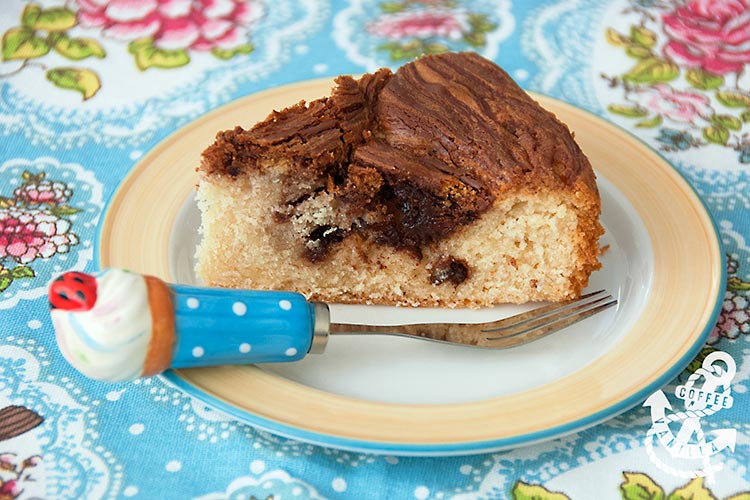 EQUIPMENT
mixer
pastry brush
baking paper
2 baking dishes (we have used one bread loaf tin and one round cake tin)
wooden skewer
microwavable jug
METHOD
Place butter bar in a jug and microwave for about 50 seconds until completely melted.
Use a bit of melted butter and with a pastry brush grease baking trays, previously lined with baking paper, leave aside.
In a mixer bowl combine all dry ingredients: flour, sugar an baking powder.
Then add milk and eggs and turn the mixer on.
Gradually pour in also the butter and mix a while longer.
Share mixture to the baking tins.
Top with dollops of Nutella, use skewer to make swirly patterns on the top of the cake.
Bake in the the oven preheated to 160°C  (320°F) for about 50 minutes.
Let the cake to cool down before sharing.
Makes about 18 – 20 servings.
NOTES
If you have on hand replace  2 – 3 tbs of sugar with home-made vanilla sugar to make the cake even more tasty.
Ready cake should have cracks on the top, should be moist but not sticky inside, use skewer to check.
Swirled Nutella Cake taste good on it's own, even better with some vanilla ice cream or custard on a side.
Looking for more easy Nutella Recipes? Then try Chocolate and Vanilla Pancake Cheesecake I previously made or Sarah's gorgeous Nutella Swirl Loaf topped with Nutella and hazelnuts.