This is one of those cakes that accompanied me through my childhood and brings lots of memories, so today when children surprised me with a bouquet of roses for Mother's Day, I decided to make it for them.
Happy Mother's Day to all mothers!
Here in the UK we celebrate it on the 22nd of March, on my husband's native Island of Dominica and in the rest of the World this day is celebrated on the 10th of May while in my homeland – Poland it is on 26 of May.
The original name for this cake is "murzynek" which means "black boy" in Polish… It does not sound right, I was never really comfortable using it so we just call it Polish chocolate cake instead.
INGREDIENTS
for the cake
2½ cups plain flour
2½ tsp baking powder
4 eggs
1 cup of milk or a little bit more
1½ cups golden caster sugar
4 tbs unsweetened cocoa powder
¾ cup of oil or 125 g melted butter (I used grapeseed oil)
for the glaze
half a bar of unsalted butter (125 g)
3 tbs unsweetened cocoa powder
5 tbs golden caster sugar
1 tbs or a little bit more milk or water
grated coconut or sprinkles (hundreds and thousands)
1 tbs of butter to grease the tins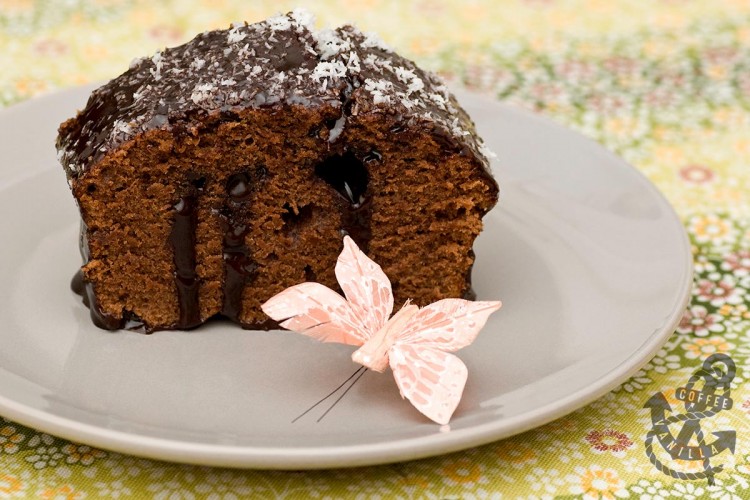 EQUIPMENT
whisk
mixing bowl
medium non-stick pot
two x 11 × 22 cm (4.5 x 8.5 in) non-stick loaf tins or one tin plus some silicone of paper muffin cases to make cupcakes
METHOD
In a pot combine milk, sugar, cocoa powder, and oil. Heat over low fire until all ingredients are well combined, sugar melted and mixture bubbling. Leave aside for a while to cool down.
In a bowl mix flour and baking powder, add cooled down the cocoa mixture, and gradually add eggs, mixing with a whisk all the time.
Pour mixture into buttered tins and bake in the oven preheated to 160°C  (320°F) for about 45 – 55 minutes. The ready cake should have cracks on the top, should be moist but not sticky inside, use a skewer to check.
Remove cakes from the tin and let them cool down.
In meantime prepare glaze, combining in the pot sugar, butter, cocoa powder, and milk.
Cool the glaze down a little bit before pouring over the loaves. Let the glaze fill all the cracks in the cakes.
Finish sprinkling the cake with grated coconut (or sprinkles) and place back in the fridge until glaze is completely set.
Enjoy!
Makes about 16 – 20 servings.
NOTES
Use a couple of teaspoons of the dough to make mini cupcakes that I make sometimes for lunchboxes, bake them for about 15 – 25 minutes depending on the size.
Store in the fridge wrapped in aluminum foil or in an airtight container.
I'm submitting this recipe to Celebrating Mother's Day event hosted by Ivy of Kopiate… Greek Hospitality.
Looking for more chocolate cake recipes? Cook Sister made this decadent chocolate cake without flour (!)