This is very simple soup made out of the pumpkin guts from our scary Jack-O-Lantern we have made for Halloween.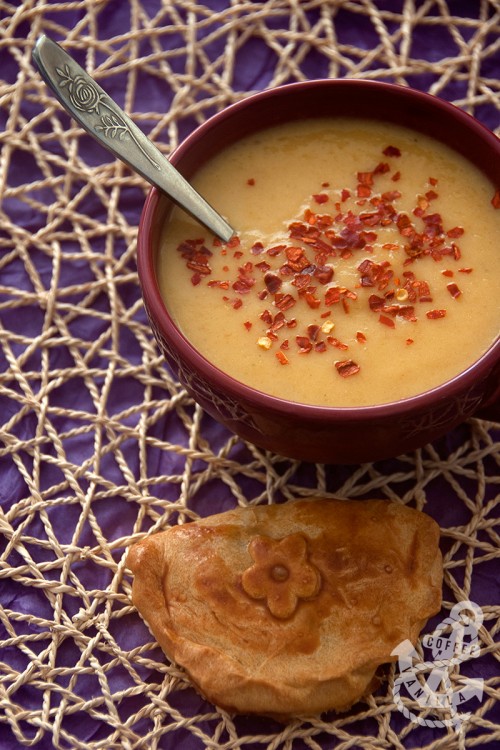 INGREDIENTS
meat of 1 medium / large pumpkin ( almost full 5 l pot)
1½ l of boiling water
2 vegetable cubes (10 g each)
ginger powder – to taste
sea salt – to taste
chilli flakes – to taste
½ cup of cream or some milk
METHOD
Place pumpkin bits, boiling water and the cubes in a large pot and bring to boil.
Reduce fire and simmer until the pumpkin is all soft.
Remove from fire, stir in cream (or milk).
Mash everything either with hand blender or liquidizer.
Season to taste with some ginger and salt.
Sprinkle with chilli flakes for extra heat.
Serve with some pasties, cheese croutons, Parmesan crisps or fresh bread on  aside.
Makes enough soup for 8 – 10 servings.
Happy Halloween!
NOTES
Do not discard pumpkin seeds, place them on baking tray lined with paper and bake in the oven until all dry and crispy.
If you looking for more inspiration take a look at those Halloween ideas.
If you are looking for more pumpkin / squash soup ideas take a look at Creamy Butternut Squash and Tomato Soup from Tinned Tomatoes, Squash & Ginger Soup from Blue Kitchen Bakes, Thai-spiced roast pumpkin soup from Cook Sister, Butternut Squash, Tahini & Lemon Soup from Fuss Free Flavours or Simple Butternut Squash Soup from Greedy Gourmet.