This is quite easy and delicious homemade chicken & leek pasty recipe… great for school / work lunches and as an accompaniment to green salads and soups, even the pumpkin ones.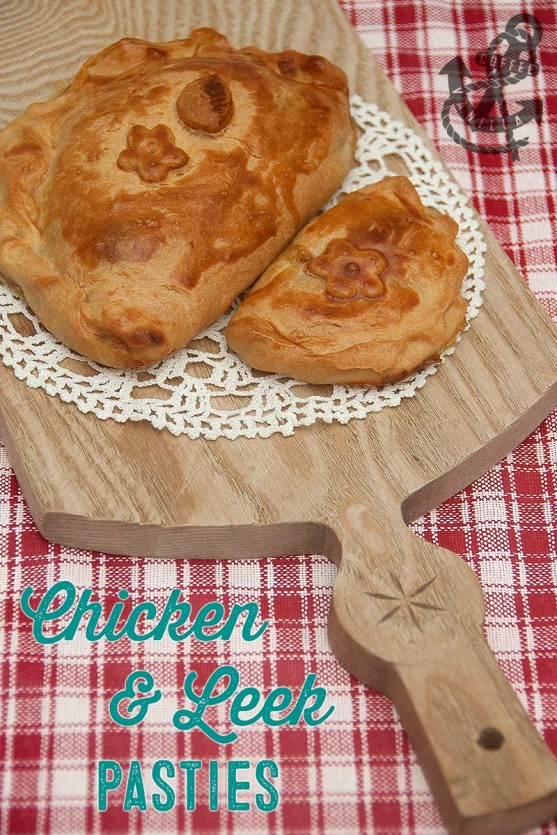 INGREDIENTS
pastry
7 cups plain flour
4 eggs (2 egg yolks set aside for the glaze)
250 g / bar of salted butter
1 cup of water
filling
500 g chicken breast (cubed)
500 g carrots (peeled and diced)
500 g leeks (chopped finely)
3 tbs olive oil
1 cup of hot water
1 tbs dried thyme
1 tbs garlic powder
sea salt to taste
1½ cup of cold water
 cup plain flour
chilli flakes – optional
EQUIPMENT
large wide pot for the filling
large mixing bowl for the pastry
baking trays lined with baking paper
rolling pin
small cookie cutters – optional
pastry brush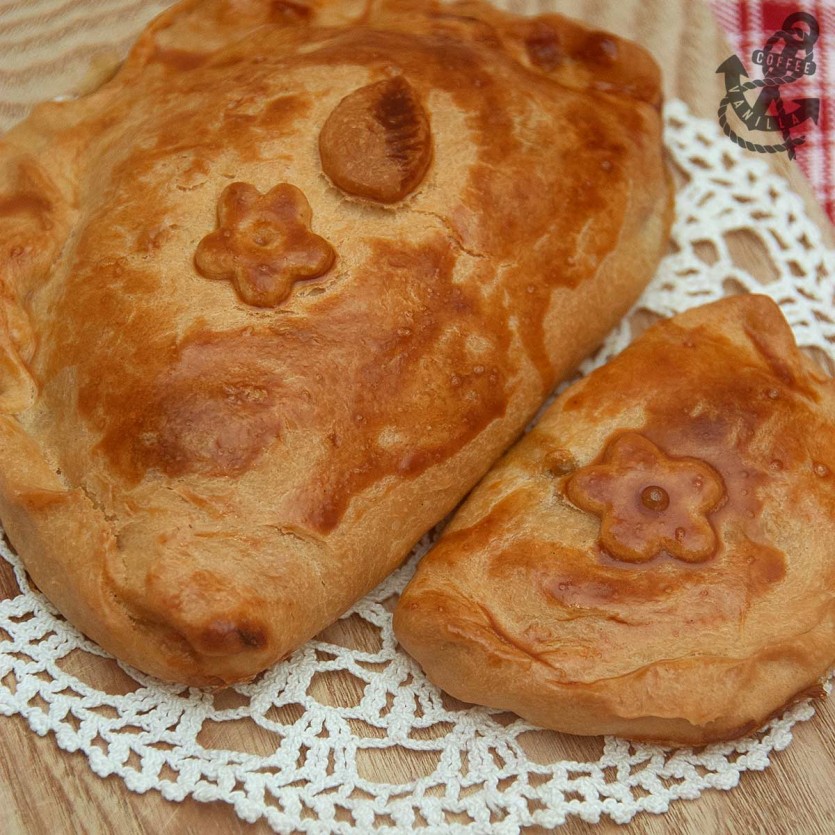 METHOD
First prepare the filling, on the bottom of the pot fry for a while carrots, chicken and leek with olive oil.
Once chicken is cooked reduce fire, add hot water, spices and simmer until leek is almost melted.
Stir flour with cold water and add to the pot stirring at the same time.
Continue heating and stirring for couple of minutes until mixture is quite thick.
Season to taste with salt and optionally some chilli flakes.
Leave aside to cool down completely. It can be also prepared long time in advance and placed in the fridge for best result.
To prepare the dough combine all the ingredients and knead for a while.
To assemble the pasties take ping pong size ball of the dough, roll it out to the oval shape and top with some filling in the middle. Bring longer sides together and seal the pasty pulling the lower layer over the top one and pinching it down while on the baking tray.
If you have time and leftover dough you can cut out some decorations with small cookie cutters.
Brush ready to bake pastries with egg yolk.
Bake in the oven preheated to 200°C  (392°F) until golden.
Enjoy alone or with some green salad or soup on a side.
Makes 15 large or many more smaller pasties.
NOTES
Those pasties taste good cold or hot.
They freeze well so can be saved for work lunches.
Instead of making pasties you can use the same dough and filling and either make two giant pies or plenty small ones in ramekin dishes.
Looking for more pasties and pies recipes? Then try Kavey's Chicken, Spring Onion & Mushroom Pie from Kavey Eats, Chicken a la King from Cook Sister, Turkey, Bacon & Leek Pie from Fab Food 4 All, Chicken and Mushroom Pie from Greedy Gourmet or Cheat's chicken, ham and leek pies from Baby Centre by  Maison Cupcake.