This is very fast idea of turning practically any t-shirt into Halloween one. Having problems finding nice t-shirt to match my 4 year old daughter black starry tutu skirt and spider web stockings I decided to give it a try and make my own shirt. It worked well… I'm quite pleased with the effect considering that she was helping me to paint the web.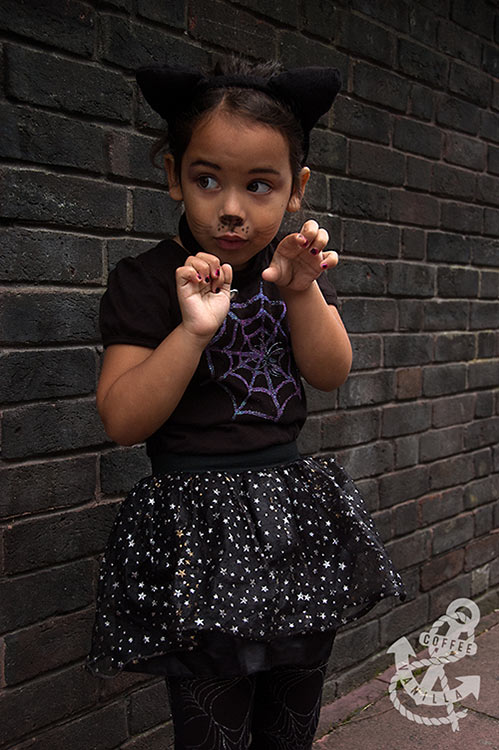 MATERIALS
dark / black t-shirt
glue (I used Mod Podge)
glitter powder
plastic spider – optional
glittery nail polish – optional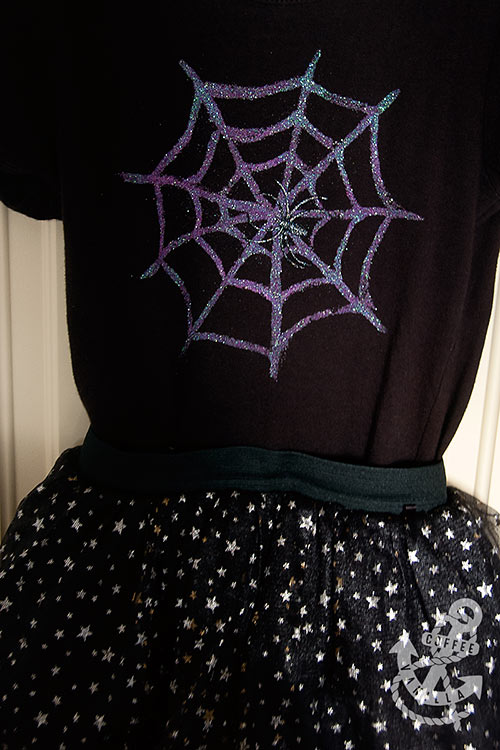 EQUIPMENT
thin paintbrush
piece of card board (for t-shirt protection)
thread and needle – optional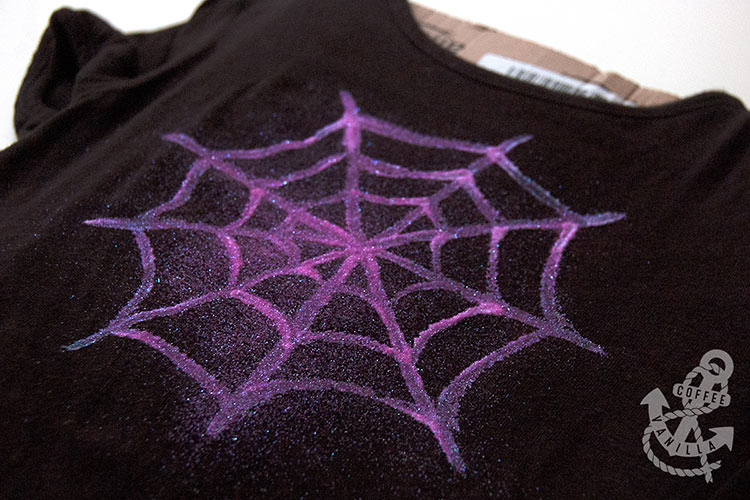 METHOD
First, place cardboard inside the t-shirt to stretch it and protect back of the shirt at the same time.
Using thin brush and glue paint spider web pattern on the shirt.
Sprinkle generously with glitter and leave aside to dry.
In meantime, if you have time, paint the spider either with the same glue and glitter or with nail varnish.
Remove cardboard from the shirt, shake off any excess of glitter.
Sew the spider onto the shirt and voilà, your glittery spiderweb t-shirt is ready!
TIPS
Depending on how permanent or temporary you want the pattern to be, use different glue. I suspect Mod Podge will came off after couple of washes… or not, but it does not matter to me, the t-shirt wasn't new. If you want to make sure the pattern will be easy to remove use transparent craft glue or  permanent fabric glue for long lasting design.
To complete the look my daughter did wear cat ears on a headband, black tutu with attached cat tail (on a button), cat bell on her neck, spider web stocking. She had also whiskers and nose drawn with black eyebrow pencil as we were not allowed masks for the school party and I have painted her fingernails in spiderweb pattern.
UPDATE
The shirt survived wash without any major damage to the web and was reused twice since we made it few years ago.
NOTES
More Halloween recipe and craft ideas from the past.
DISCLOSURE: This post contains some affiliated links.