Herbal pepper is one of those spices I grew up with. It was always available on our kitchen table back in Poland and I used it on almost anything, even on the top bread with butter.
Not being able to get this spice here in UK I decided to experiment and try to recreate this childhood flavour, below the result…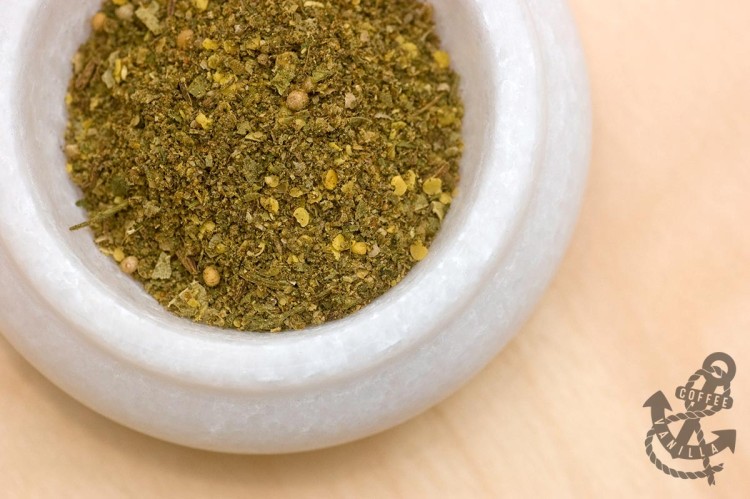 INGREDIENTS
2 tbs dried coriander leaves
2 tbs ground coriander
1 tbs caraway seeds
3 tbs dried marjoram
6 pinches Cayenne pepper or other chilli powder
2 tbs mustard seeds
12 bay leaves
EQUIPMENT
METHOD
Combine all ingredients.
Pound with mortar and pestle till they are all crushed and mixed well.
Makes enough mix for small spice jar (about 8 – 10 g).
NOTES
In cooking herbal pepper should be added towards the end for the best flavour.
To read more about Herbal Pepper Mix follow this link: Polish herbal pepper mix.
Recipes calling for herbal pepper: Creamy Puy Lentils with Herbal Pepper, Celery, Tomato and Carrot Soup with Herbal Pepper and Dill, Quick Spring Onion Quesadilla, Cream of Roasted Pumpkin & Sweet Potato Soup with Parmesan Crisps, Rice Salad with Tuna, Corn and Parsley, Leftover Pasta Salad with Sweet Corn, Black Olives and Leek and Couscous with Tomato & Zucchini.
DISCLOSURE: This post contains some affiliated links.