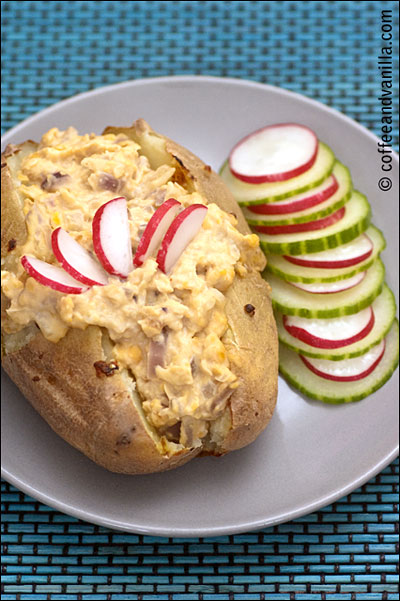 INGREDIENTS
6-8 large baked potatoes (you can use ready baked potatoes from Bannisters' Farm)
for the filling
3 x 400g tins of garbanzo beans / chickpeas (drained)
2 large red onions (diced)
some butter or oil to fry onions
few tbs crème fraiche or soured cream (I used about 100g)
1 tsp garlic powder
few dashes of lemon juice – optional
sea salt to taste
Cayenne pepper or black pepper to taste
EQUIPMENT
fying pan
potato masher
bowl with flat bottom to mash the beans (I used pot)
METHOD
Fry onions until nicely browned.
Combine them with drained chickpeas, cream, garlic powder and lemon juice.
Mash using potato masher.
Season to taste with salt and pepper.
Cross cut baked potatoes while still hot and top them with the filling.
Enjoy with some green salad on a side.
Serve 6 people.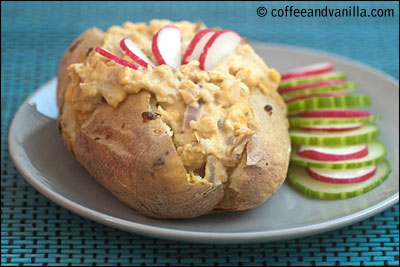 NOTES
Bannisters' Farm baked potatoes and their other products are available from all major grocery stores.
Left over filling is great as a spread for toasted bread.
For smoother texture of the filling use hand blender instead of potato masher.
More jacket potato recipes:
Chilli con Carne Jacket Potatoes
Jacket Potato with Cottage Cheese & Smoked Mackerel Paste
Jacket Potatoes with Cream Cheese, Mushrooms & Parsley
Spring Jacket Potatoes with Avocado, Pepper and Mustard Cress
Disclosure: this article include some sponsored links.