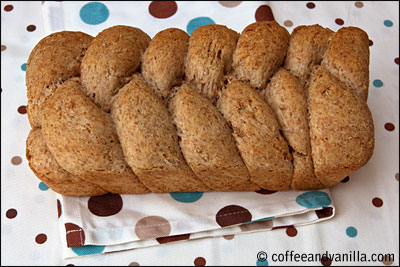 INGREDIENTS
6 cups wholemeal plain flour
2 cups potato flour
1 cup oil (I used rapeseed oil) + some more for brushing the tins
1½ tbs instant dried yeast
1 tbs fine sea salt
1 tbs fine sugar
2½ cups lukewarm water
EQUIPMENT
three x 11×22 cm (4.5 x 8.5 in) non-stick loaf tins
silicone pastry brush
wooden skewer to test the bread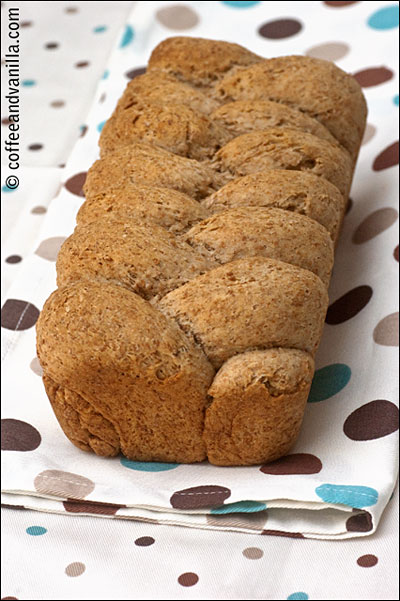 METHOD
Dissolve yeast and sugar in lukewarm water and leave in a quiet warm place for about 15 minutes.
In a mixing bowl combine flours and salt, then add yeast mixture and oil and work the dough until well combined.
Share the pastry into 3 portions.
Each portion divide into 3 pieces and roll them with your fingers until about 45cm / 18 inches long. Use them to make a plait.
Repeat the same with the other two portions of dough.
Place plaits in brushed with oil loaf tins, cover with kitchen cloth and let them rest for about 30 minutes.
Preheat oven to 180°C (356°F).
Bake for about 35-40 minutes, check with the skewer if the dough inside is baked properly.
Once the breads are baked and golden remove them from the oven.
Let them cool down completely before slicing.
Makes 3 small loaves of bread.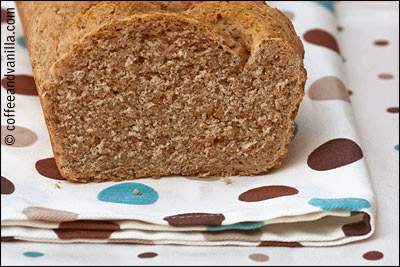 NOTES
Next time I will try to replace some of the wholemeal flour with plain white flour or strong white flour to see the difference in texture… The first day bread was just right but after day or two it turned a little bit too sandy and dry.
You can also place breads directly on baking tray or instead of making 3 breads make 2 and divide ⅓ of the dough into 12 bread rolls that can be baked in the muffin / scone tray.