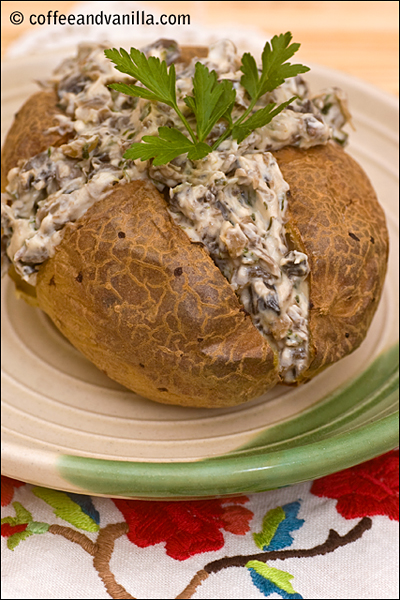 INGREDIENTS
4-6 large baking potatoes (about 1½ kg)
200g plain cream cheese + few tbs of milk or cream
300g button mushrooms (diced)
2 onions (diced)
2 tbs unsalted butter
sea salt
black pepper
handful fresh chopped parsley or chive
METHOD
Make cross cuts on the top of each potato and bake in 200°C (392°F) for about 1 hour – 1½ hours. Use skewer to check if potatoes are soft inside.
In meantime fry on butter mushrooms and onions, towards the end stir in also parsley or chive and fry some more. Leave aside to cool down. Then stir in cream cheese, season to taste with salt and pepper.
Once potatoes are ready make cross cuts deeper so they will open up a little bit, fill this space with cream cheese-mushrooms mixture. Serve immediately as a side dish or snack.
Make 4 serving.
You can skip the herbs and use herbed cream cheese instead of plain one.