With beginning of Spring kids spend more time outdoors and Discovery Channel 100 x Microscope (£19.99) and Discovery Channel Bug Barn (£14.99) from Trends Toys UK are just great to keep them occupied, have fun and learn something at the same time.
My girls were extremely happy to receive those two lovely toys, the bigger one (9 year old) started preparing her own slides for the microscope straight away when the little one (4 years old) now constantly looks for all kind of creepy crawlies around the house and beyond.
I'm not a big fan of insects so for the pictures I used fake plastic caterpillar and fly that we got in natural history museum some time ago.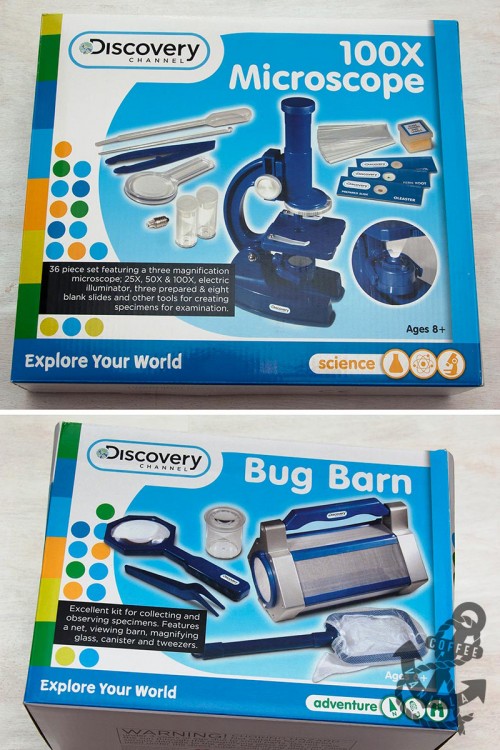 Both sets are quite useful to have at home as they can keep kids occupied for hours in the garden or park, compact enough to take for holidays or even to use at home during rainy days… there are always some spiders or wool moths to catch and interesting specimens to take a closer look at.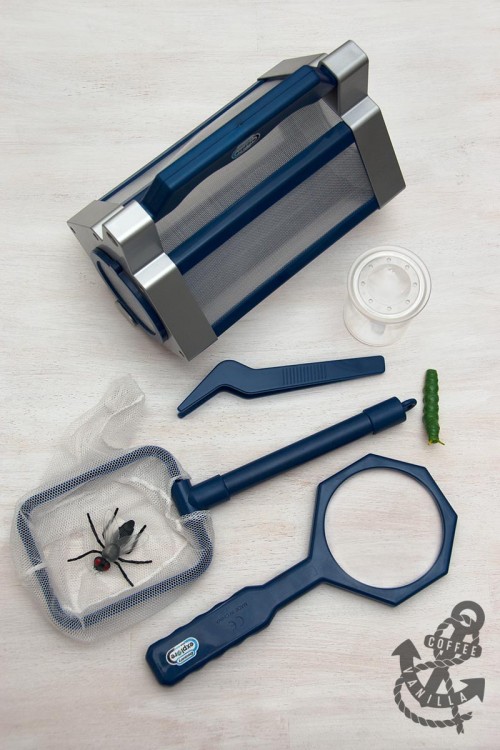 The Discovery Channel Bug Barn set came with the main container with mesh walls and easy to open sliding sides, magnifying glass, tweezer, bug net, little transparent jar with magnifying glass on the lid and window / mirror clings featuring all kinds of insects with names (pictured plastic toys not included).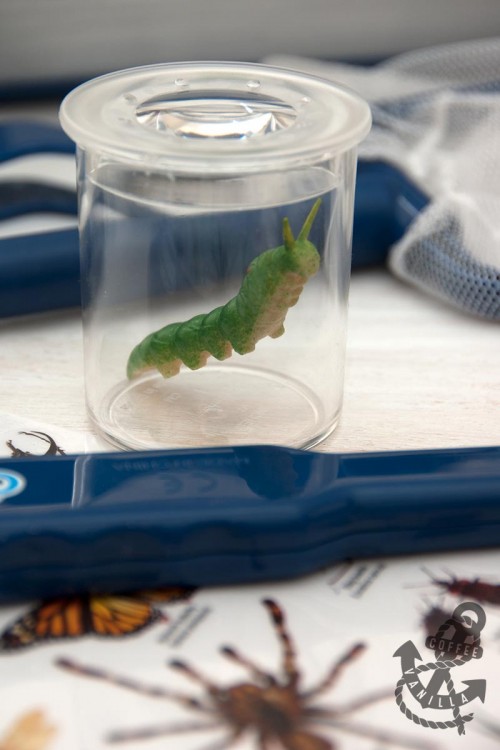 My younger one really enjoyed running with her bug barn all over the house and park trying to catch something for observation. The spring has just started so we will definitely be using it more in upcoming days. When I asked what she like the most about the bug barn… she replied "Everything!" :)
Recommended age for this set is 6 but I think kids as small as 4 year old would also enjoy this, my daughter did.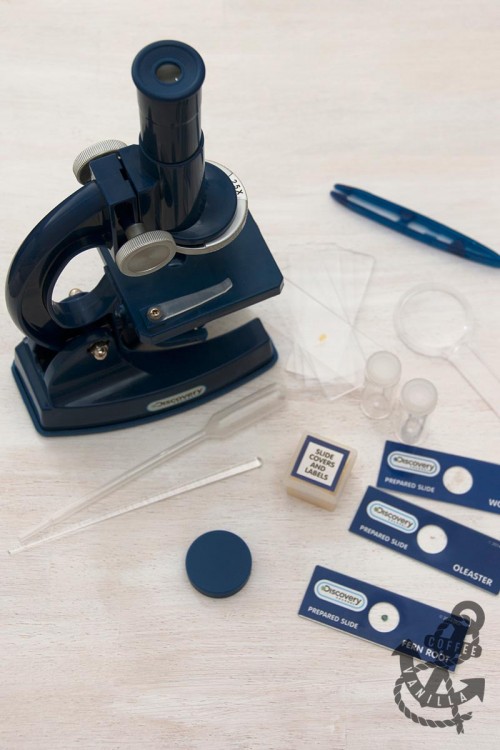 The Discovery Channel 100 x Microscope set comes with microscope itself that uses 2 x AA batteries (not included) for the light, spare bulb, 3 prepared slides (fern root, wool and oleaster), eight blanks slides, slide covers & labels, two empty specimen containers, tweezer, magnifying glass, pipette and acrylic stirring rod.
What can you expect to see under 100 x magnification? You won't be able to see bacteria, you need more professional microscope for this with 1000 x magnifying power, but you can see plant cells, hair structure, fibres and many other interesting things…
As a child I had similar microscope myself and always wanted to get one for my girls but I was afraid of the glass slides (mine decades ago had real glass slides)… so I was delaying this purchase till they get a bit bigger. When we opened this microscope set, to my big surprise, I discovered that the slides are made out clear acrylic not glass – nice and safe. I did not have to worry and could get them microscope ages ago!
My older daughter who is 9 really like her new "toy" and examines everything she finds on her way, even created couple of slides herself… Now she is secretly waiting for someone to get hurt in the kitchen to get blood sample for her slide.
DISCLOSURE: Both  products has been sent to us from Trends Toys UK for review purposes.  We were not financially compensated for this post. All opinions expressed here are our own and we retained full editorial control.