As a child I did not like bigos (hunter's stew with sour cabbage) but young cabbage with tomatoes used to be one of my favourite comfort dishes. Best served hot with fresh sourdough bread on a side topped with generous amount of real butter.
INGREDIENTS
1 onion (chopped finely)
30 g unsalted butter
young white cabbage head – about 900 g (chopped)
400 g tin of plum or chopped tomatoes or about 8 fresh ones
1½ cup of hot water
½ cup fresh or frozen chopped dill
golden caster sugar to taste (I added about ½ tbs)
sea salt to taste
freshly cracked black pepper to taste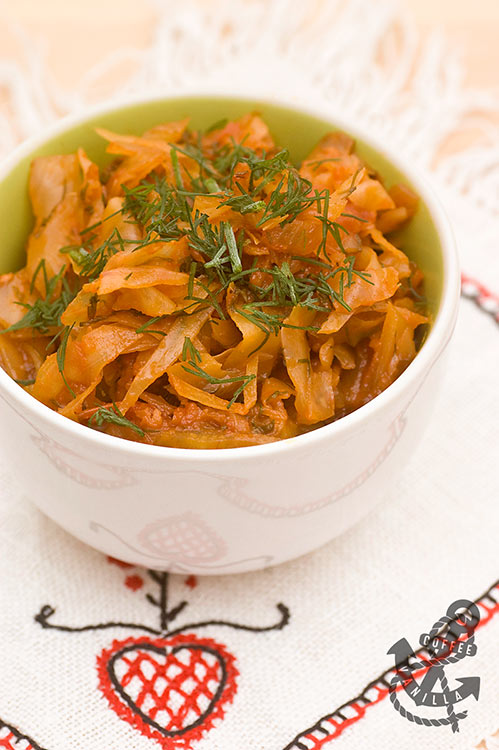 METHOD
On the bottom of large pot fry onion on half of the butter until golden.
Reduce fire, add tomatoes, cabbage, half of the dill, water and cook covered until cabbage is very soft, melting in your mouth.
Stir in the rest of butter and dill, season to taste with sugar, salt and black pepper.
Serve as a side dish or on it's own.
Makes 6 servings (as a side dish).
TIPS
Young cabbage taste best with boiled baby potatoes or fresh sourdough bread.
Sometimes I like to make my young cabbage in a wok and once all the liquid is all gone I stir fry it for a bit… it adds a lot of flavour to the cabbage.
NOTES
If you are looking for more traditional Polish dishes, take a look at: Zapiekanka – Polish Street Food or Śledzik – Traditional Polish Salted Herring.
Alternatively take a look other Polish recipes here.
I'm submitting this to July Inheritance Recipes link-up hosted by myself and Solange of Pebble Soup.