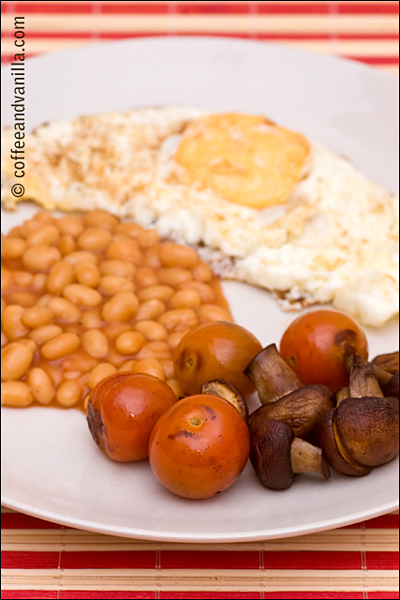 Recently I'm craving English breakfast like never before… I can wake up early in morning even on Sunday to make it for everyone or make it for lunch and today I made it again.
INGREDIENTS
6-8 eggs
2 tbs unsalted butter
1 tsp oil for greasing the griddle pan
16-20 cherry tomatoes
16-20 button or chestnut mushrooms (halved)
400g tin of baked beans
black peppercorns
sea salt
6-8 slices of toasted bread (I used wholemeal with pumpkin and sunflower seeds)
butter for bread
6-8 sausages such as Frankfurters (halved or cut in 3) – optional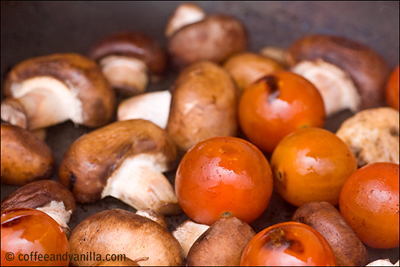 EQUIPMENT
2-3 frying pans, one of them should be good for char grilling, griddle pan would be the best

METHOD
On slightly greased griddle pan fry cherry tomatoes, mushrooms and optionally sausages until browned (I made them for everyone except me as I don't eat red meat), leave aside on frying pan to keep it warm.
In meantime place ½ tbs of butter on each of remaining two frying pans and fry eggs on them to your liking, season to taste with sea salt. Share them to the plates.
When eggs are ready use one of the frying pans to heat the beans, add some freshly cracked pepper and 1 tbs of unsalted butter. Share to the plates.
Serve with previously char grilled mushrooms, sausages and tomatoes and freshly toasted bread with butter.
Make 4 servings.