Lunchbox # 90 (for 4½ year old girl)
Lunchbox # 91 (for 4½ year old girl)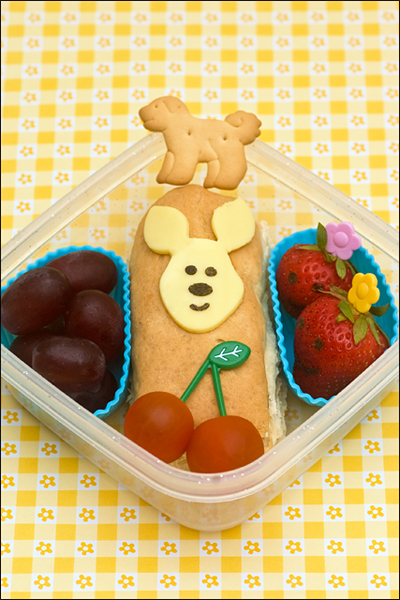 Yesterday my daughter wasn't feeling well and missed the school so she asked me to make similar lunchbox also today for her, so she could show strawberries with eyes to her best friend Paola.
sandwiches made from bread roll, butter and turkey ham (decorated with pigglet cut out from cheese single, face made from seaweed wrap / nori)
cherry tomatoes with leaf food pick
seedless red grapes, in silicone muffin case
strawberries with faces made from seaweed wrap / nori, with flowery food picks as a bows, in silicone muffin case
mini malted biscuit / mini doggy shaped biscuit
frozen strawberry Choobs fromage frais in a tube, it will defrost by lunchtime (not pictured)
100% tropical juice with a straw (not pictured)
antibacterial gel to wash hands before lunch (not pictured)
wipe wrapped in aluminum foil with a stickers, to use after lunch (not pictured)
Everything closed in EZ-Freeze lunchbox with a freezable lid and placed inside insulated lunch bag.
More lunchbox ideas can be found here: Lunchbox Food.
And here you can read about Packing Children Lunches.
Some of the lunchbox accessories can be found in my Amazon aStore.