Bigos is one of the most classic Polish dishes that is frugal (made out of locally available ingredients such as cabbage and wild mushrooms), healthy (sour cabbage has plenty benefits) and versatile (except for the main ingredients such as cabbage and spices bigos recipes vary, depending on the cook) at the same time.
Here is our (vegetarian) version which can be easily turned into traditional version by adding some sausages (veggie sausages will work here as well).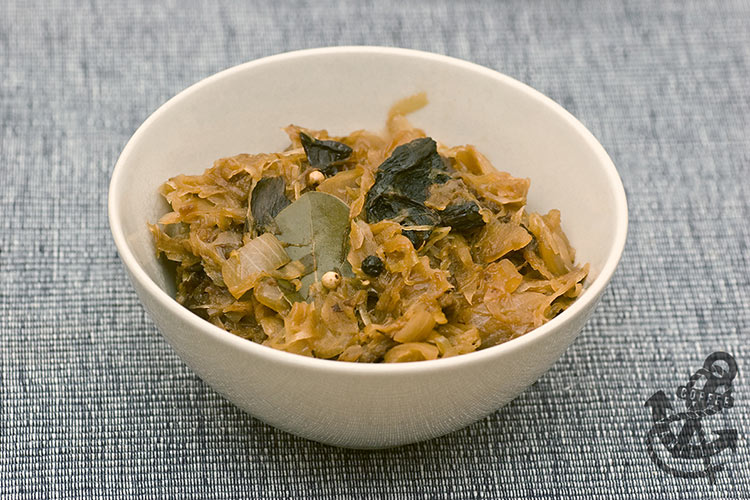 INGREDIENTS
1200 g drained and chopped sour, fermented cabbage / sauerkraut (2 x 900 ml jars)
400 g smoked prunes, regular prunes are good as well (chopped, cut in halves)
2 – 3 handfuls of dried wild mushrooms (crushed)
2 large onions (chopped)
3 – 4 large cooking apples (cubed roughly)
6 cups water (1½ litre)
4 tbs olive oil or butter
10 bay leaves
1 tbs rainbow peppercorns (whole) or 1 tsp black peppercorns, 1 tsp juniper berries and 1 tsp allspice / pimento peppercorns
sea salt to taste – optional
caster sugar to taste – optional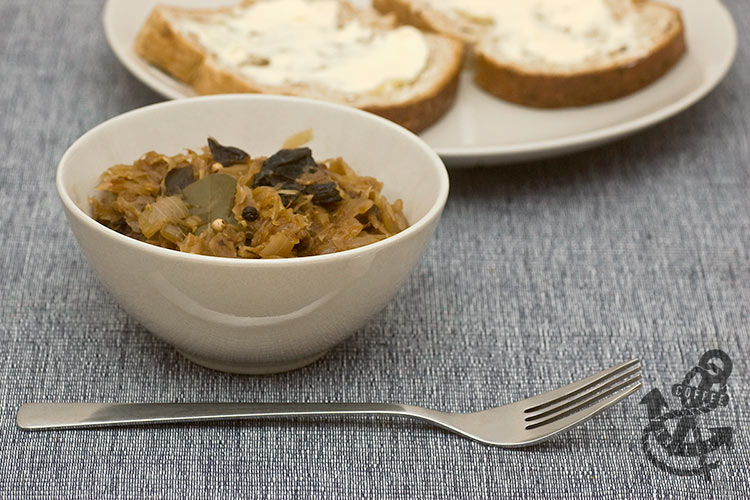 METHOD
On the bottom of the large pot place onions and some oil or butter, fry until golden brown.
Add rest of the ingredients cook covered over medium fire for about an hour stirring from time to time. When bigos is ready there should be no more water in the pot, cabbage on the bottom should be even burning a little bit and prunes and apples should be very soft and falling apart.
Season to taste with sugar and salt if necessary and enjoy.
Makes about 18 – 20 portions as a side dish or as a snack.
TIPS
Taste good served with fresh bread and butter or as a side dish to meat.
This dish taste even better next day, reheated.
Wild mushrooms can be replaced with 2 large (10 g each) mushroom cubes or with some other strong tasting, earthy mushrooms such as chestnut mushrooms, about 300 g (sliced).
If apples and prunes are sweet you may skip the sugar.
If cabbage is very sour rinse it and drain it before cooking.
NOTES
Bigos is traditional Polish dish served for instance during Christmas.
Originally bigos is made with addition of cubed sausage which can be easily added later on or replaced with veggie sausages.
I'm submitting this recipe to the Inheritance Recipes link-up that we co-host with Solange of Pebble Soup.