INGREDIENTS
1 large onion (chopped finely)
4 tbs Carotino or olive oil
500 g couscous
hot water for couscous
1000 g potatoes (cubed)
450 -500 g smoked mackerel fillets (skin removed, flaked)
black peppercorns or some Cayenne pepper
sea salt
500 g flat beans (chopped coarsely and steamed)
400 – 500 g cherry tomatoes (halved) – optional
bunch of chives (chopped) – optional
bunch of flat leaf parsley (chopped) – optional
3 – 5 red/yellow bell peppers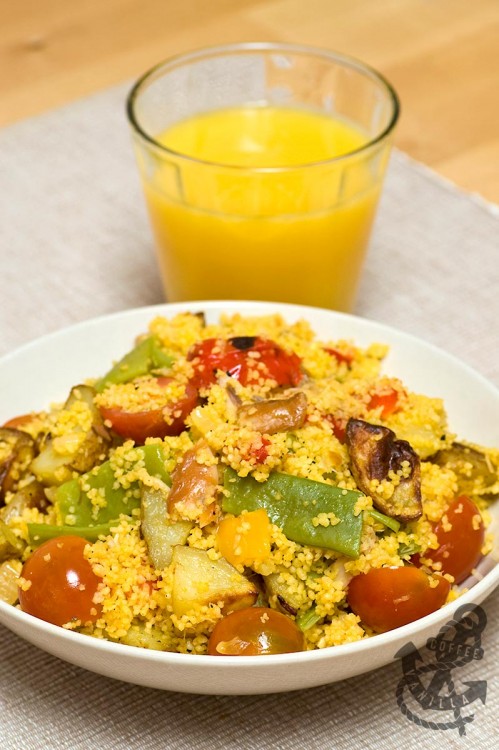 EQUIPMENT
tongs
container with lid, plastic bag or bowl and a plate
large non-stick pot
baking tray lined with non-stick Teflon sheet
METHOD
Mix potatoes with 2 tbs of oil and some salt, place on baking tray and bake in the oven preheated to 180°C (356°F) until baked and golden brown.
Burn peppers over gas until each side is black.
Place in container, cover with lid, let them steam for about 10-15 minutes. Rub of with your hands some burned skin, but not all. De-seed, cube, leave aside.
To steam beans just place them, with some water on the bottom, in a pot with cover and heat for couple of minutes, you may also use proper steamer.
On the bottom of large pot fry onions, on 2 tbs of oil, until golden brown.
Stir in couscous and heat stirring constantly, gradually add hot water.
Remove from fire, add roasted peppers, steamed beans, flaked mackerel, potatoes, optionally tomatoes and parsley or chives, season to taste with salt and freshly cracked pepper or Cayenne pepper.
Serve warm or cold.
Makes 6 large servings.
NOTES
This is very versatile salad, beans can be replaced with other kind of beans or even carrots and peas.
If you are looking for more couscous & mackerel recipes then try this Tomato Couscous & Mackerel Salad I made while ago.