INGREDIENTS
2 onions (chopped finely)
4 tbs Carotino or olive oil
500 g couscous
2 x 400 g tin of chopped tomatoes
hot water for couscous
450 – 500 g smoked mackerel fillets (skin removed, flaked)
black peppercorns or some Cayenne pepper
sea salt or Adobo seasoning
450 – 500 g dwarf beans (hulled, cut in half and steamed)
bunch of chives (chopped)
small bunch of flat leaf parsley (chopped) – optional
2 large red pointed peppers (sliced)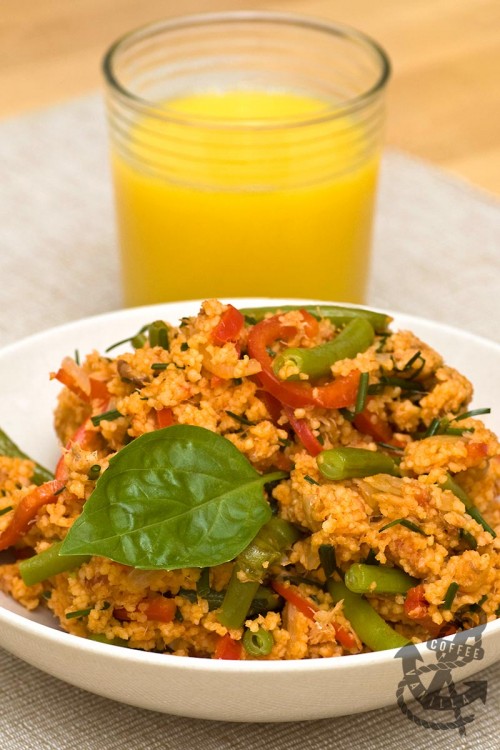 EQUIPMENT
large frying pan, wok, or large pot
microwavable container with lid for steaming, proper steamer or pressure cooker
METHOD
Fry onion on oil in the wok or on the bottom of the pot until golden brown.
Add couscous and heat over the fire stirring constantly, until couscous is hot.
Then add tinned tomatoes and gradually water.
Continue stirring and adding water until couscous is cooked but not too soft or watery. Leave aside.
In meantime steam dwarf beans until soft but still crunchy.
Stir in to the pot with couscous: flaked mackerel, steamed beans, peppers, chives, parsley.
Season to taste with salt or Adobo and black or Cayenne pepper.
Serve warm or cold.
Makes 6 large servings.
NOTES
Parsley can be skipped altogether or replaced with some fresh basil leaves.
If you are looking for more oily fish & couscous recipes try this Warm Couscous, Roasted Potato and Smoked Mackerel Salad.
For different mackerel recipes take a look at Camilla's Smoked Mackerel Pâté, Jacket Potato with Cottage Cheese & Smoked Mackerel Paste or Baked Mackerel in Caribbean Coconut Curry Sauce and Tomatoes I made while ago.