[Inspired by "The Best of Norwegian Traditional Cuisine" by Ingrid Espelid Hovig that my friend Rigmor gave ages ago to my sister Jola, and now almost 15 years later my husband used it to prepare this dish.]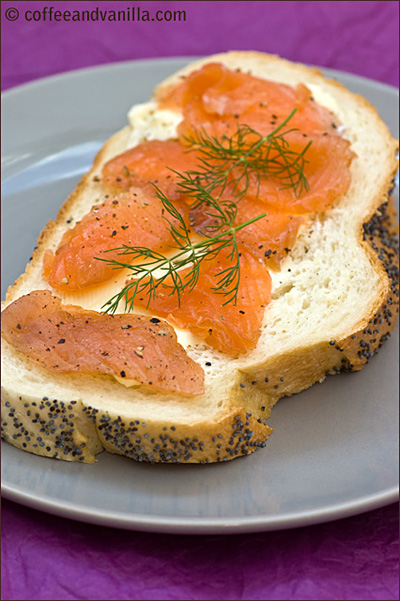 INGREDIENTS
about 400g boneless salmon with skin (cut into two even pieces)
2 tbs sea salt
1 tbs sugar (optional, we did not use it)
1 tsp freshly cracked white or black pepper
large bunch of dill (washed and chopped)
EQUIPMENT
deep glass, plastic or stainless still container for curing salmon
aluminium foil or cling film
heavy object to place on the top such as stone or heavy chopping board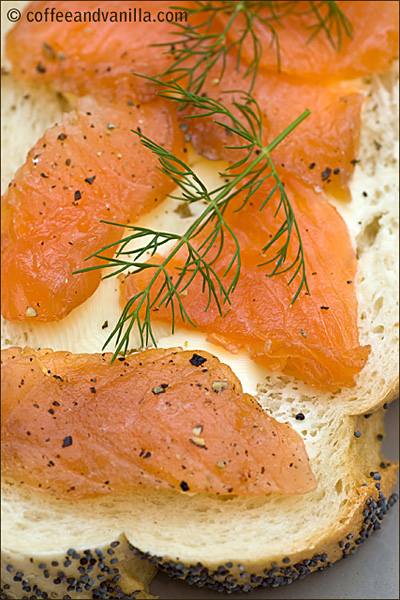 METHOD
Pat dry salmon and rub with mixture of salt, optionally sugar and pepper.
Place one piece of salmon skin down in the container, top with all chopped dill, cover with another piece of salmon, this time skin side up, cover the whole dish with aluminium foil or cling film.
Put something heavy on the top.
Refrigerate for 2-3 days turning salmon "sandwich" every 12 hours so it will cure evenly.
Once it is done, scrap out excess dill, salt and pepper and slice thinly.
Serve as an appetizer or on buttered bread.