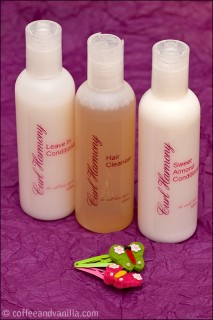 A couple of weeks ago I was contacted by Nadine from UK based Curl Harmony, asking if I would not want to try their handmade products for curly hair. As a mother of mixed race daughter with very hard to comb and maintain curls, I agreed immediately.
I asked Nadine to send me Curly Hair Sample Kit: Hair Cleanser, Sweet Almond Conditioner and Leave In Conditioner. I tested them for 2 weeks now on my 4 year old daughter's hair but I tried also Sweet Almond Conditioner on my own (straight & thin) hair, and I love it, hair are smooth and the scent just fabulous.
Small amount of Hair Cleanser to my surprise was working as good as regular shampoo.  But because this cleanser does not contain any damaging chemicals, it does not remove natural oils from the hair leaving them clean but not dried out. Sweet Almond Conditioner is just perfect for combing curls, leaving them smooth, soft and freeze free. I rinsed my daughter's hair, dried them with towel and applied generous portion of Leave In Conditioner and allowed them to dry with a little help of hair drier (on cool air option… heat can be damaging to hair).  After wards my daughter curls were beautiful, soft, well defined. Next day I just had to wet them a little bit passing my wet hands in her hair, add a little bit more Leave In Conditioner and they were beautifully curly again.

Comparing to other similar products Curl Harmony products:
are healthier – they are handmade and don't contain damaging to hair chemicals,
are a little bit more expensive than supermarket brands, but much cheaper than other quality hair products,
make hair softer than curly hair products we were using before,
make my daughter's hair look more like curly European than Caribbean hair, giving us few more hair style options that we could not do before,
smell very nice, my daughter prefer scent of Curl Harmony over few other products we are using,
are the only UK brand that actually worked for my daughter hair.
If you are interested in those products stay tuned as Curl Harmony is the sponsor of next Quiz that will be posted some time this week and the prizes will be: Intensive Repair Deep Conditioner and Leave In Conditioner.
In meantime visit Curl Harmony website for the whole product range and more info.