If you like cheesecakes and pumpkin pie spices, you will also love this cheesecake. Despite the fact I used here half a large pumpkin, you can hardly guess… it's milky, lightly spiced and the cookie crumb layer adds delicious crunch to this cheesecake. I have based it on our tried and tested Strawberry Cookie Crumb Cheesecake recipe, but I replaced strawberries with pumpkin pie filling and doubled amount of starch. I have also used here our Homemade Pumpkin Pie Spice Mix.
INGREDIENTS
for the pumpkin pie filling
half of a large pumpkin, about 3 kg / 1600g without seeds, gut or peel (coarsely diced)
2 cups golden caster sugar
2 tbs pumpkin spice mix (best homemade)
for the vanilla cheese layer
900 g cream cheese (full fat)
6 medium eggs + 2 egg whites (yolks will be used for crumb layer)
1½ cup icing sugar
½ cup potato flour (or other starch)
1 tbs vanilla extract or even better vanilla sugar
800 g strawberries (hulled and sliced) + few more for garnish – optional
3 cups previously prepared pumpkin pie filling
for the cookie crumb layer
2 cups plain flour
2 tsp baking powder
2 egg yolks (egg whites will be used for cheese layer)
1 cup golden caster sugar
150 g unsalted butter – a little bit more than half a bar (chopped and softened)
+ some more butter to grease the tin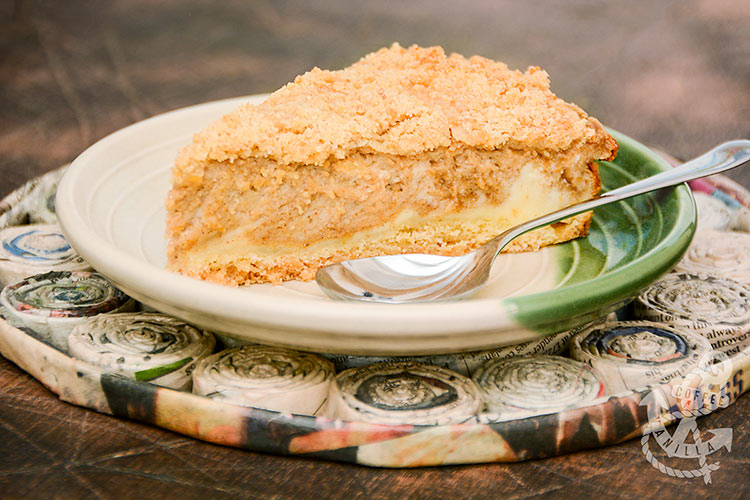 EQUIPMENT
two 9" (22,8 cm) round non stick cake tins or 1 large square/rectangular brownie tin
whisk
large pot to make the pumpkin filling
hand blender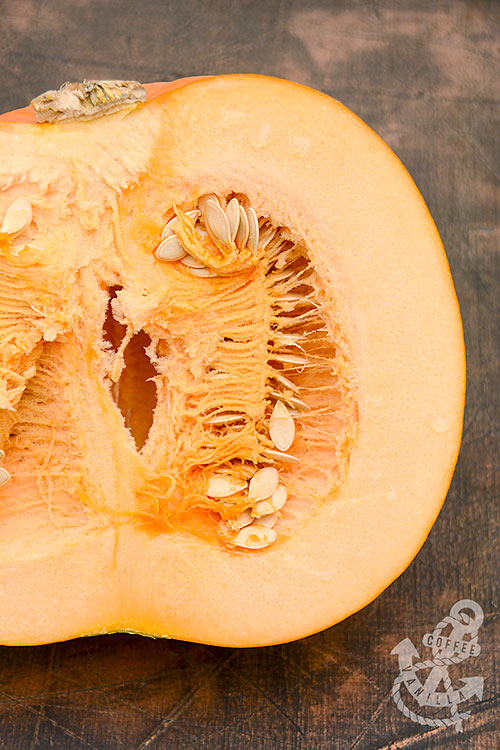 METHOD
First prepare the pumpkin pie filling. You can even double it and save some for later. Place peeled and diced pumpkin in a pot with a cup of water and cook covered until soft.
Once cooked, blend it, season with sugar and pumpkin pie spice and simmer over low fire until the filling is reduced to the consistence of marmalade. Leave aside to cool down. You will need about 3 cups of the filling for the cheesecakes.
Now place all ingredients for cookie crumb layer in a bowl and mix with your hands until well combined and have crumb texture.
Spread ⅔ of the  dough crumbs on the bottom of buttered tins and press them slightly down.
In another bowl combine all ingredients for cheese layer, except egg whites. Also stir in cooled down pumpkin pie filling mixture and stir.  At the end add the egg whites but beat them first.
Carefully pour cheese mixture over dough crumbs in the tin, top with the rest of the crumbs and bake in the oven preheated to 180°C (356°F) for about 1 hour 10 minutes.
When you are half way with baking you can reduce temperature to 150°C (302°F).
Use wooden skewer to check if cheese is set properly before removing from the oven.
Once cheesecake is baked, leave it to cool down completely, cover in the tin with cling film and place in the fridge for couple hours or even overnight.
Serve cold.
Makes 2 cheesecakes (20 – 24 servings).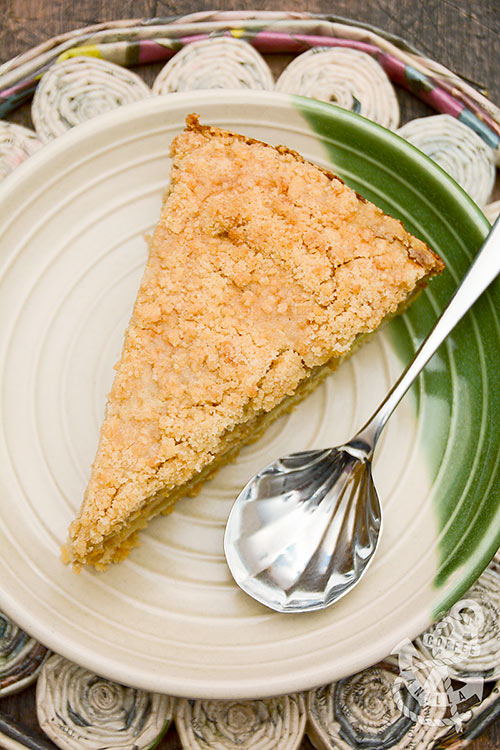 TIPS
Pumpkin pie filling can be made in advance and kept in the fridge for couple of days or even frozen if you plan to make more cheesecake later. Alternatively any extra peeled and chopped pumpkin can be frozen to be used in a cake or even a soup later on.
Do not discard pumpkin seeds, they can be easily roasted: Roasted Pumpkin Seeds with Sea Salt & Real Butter.
NOTES
As you can probably see on images I did not stir my cheese and pumpkin pie mixtures properly because I have forgot to stir it before adding egg whites.
For more pumpkin pie spice recipes take a look at our Pumpkin Pie Spice Baked Doughnuts, Pumpkin Spice Puff Pastry Swirls, Pumpkin Spice Cookies with Walnuts and Icing Sugar, Claire's Pumpkin Pasties and the Wizarding World of Harry Potter or Becca's No Churn Pumpkin Pie Ice Cream.
You may also want to check out other cheesecake recipes: Sernik Czekoladowy z Kruszonką – Polish Chocolate Crumb Cheesecake, Blueberry & Chocolate Crumb Cheesecake or Polish Strawberry Cookie Crumb Cheesecake.