Looking through the window today it may not seem this way but the First Day of Summer is very soon. Therefore this edition of T&T is all about BBQs, picnics and fathers because the Father's Day is just round the corner as well. Both are happening this year on the 21st of June.
Below couple of summery goodies and dad's gift ideas to make them the happiest men in the World (at least for this one day).
The first idea comes from Encona, their sauces are always present in our fridge, they are perfect for marinading, dipping or simply as a sandwich sauce.
Some of their sauces have now new convenient squeezable bottle that won't break during garden parties or picnics.
We especially enjoyed the Jamaican Jerk BBQ Sauce (£1.99 / 285 ml) and Peruvian Amarillo Chilli Sauce (£1.39 / 142 ml) – great taste, spicy but not too hot and very versatile, we were adding it practically to any dish and sandwich for the last couple of days. Mexican Smokey Japaleno Sauce (£1.99 / 285 ml) would work great as dipping sauce for tortilla chips but taste superb on grilled cheese sandwich.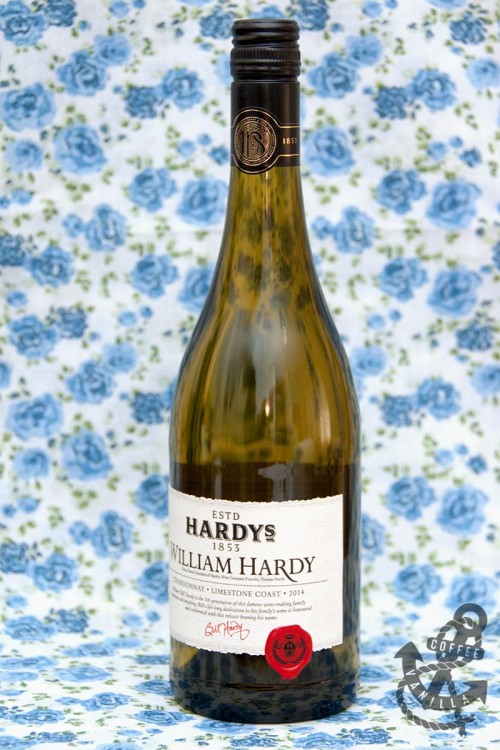 If you are planning to treat your dad with a fish & chips dinner this Fathers' Day or simply like fried fish this light and fruity William Hardy Limestone Coast Chardonnay 2014 (£9.99) from sunny Australia would make perfect addition to it.
I'm not a wine expert but this Hardy's Chardonnay is said to have melon and white peaches flavour, creamy texture and long, crisp finish.
Hardy's wines are available in Tesco, Asda, Morrisons and Ocado.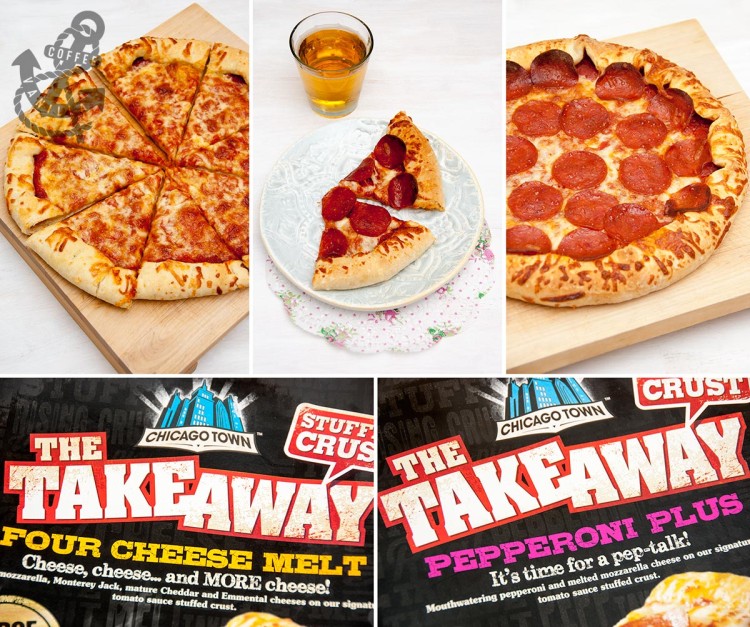 Chicago Town Takeaway pizzas come this Summer in couple new flavours: BBQ Pulled Pork, Chicken & Bacon, Sloppy Joe, Four Cheese Melt and Pepperoni Plus – some with classic crust and others with stuffed crust.
We really liked them, particularly the juicy stuffed crust and the dough that tasted like the kind you get in the pizzerias, soft on the inside and crunchy on the outside. If we didn't know we would never suspect they were store bought frozen pizzas. Fully recommened for Summer parties and as a Father's Day treat.
All of the variations cost about £4.00 (per 645 g / large size pizza) at most major supermarkets and can be found in the freezer section.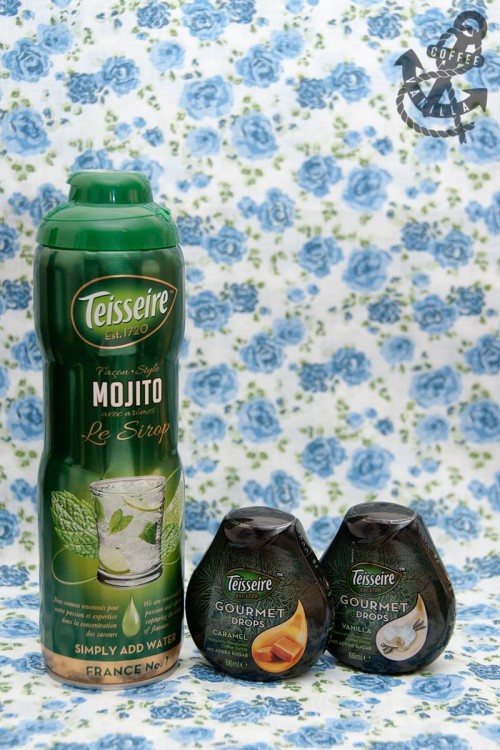 Having recently visited Paris I discovered Teisseire syrups which come in huge variety of flavours…
From great for coffee gourmet drops (Father's Day?) to fruit syrups to be added to alcoholic drinks but also refreshing mixes such as pictured Teisseire Mojito (£2.50 / 600 ml) to be simply mixed with water… great to keep you hydrated this Summer.
As we are big coffee addicts in this house we are indulging ourselves by adding dash or two of Teisseire Caramel and Teisseire Vanilla (£2.50 / 66 ml) to pimp up our morning coffees.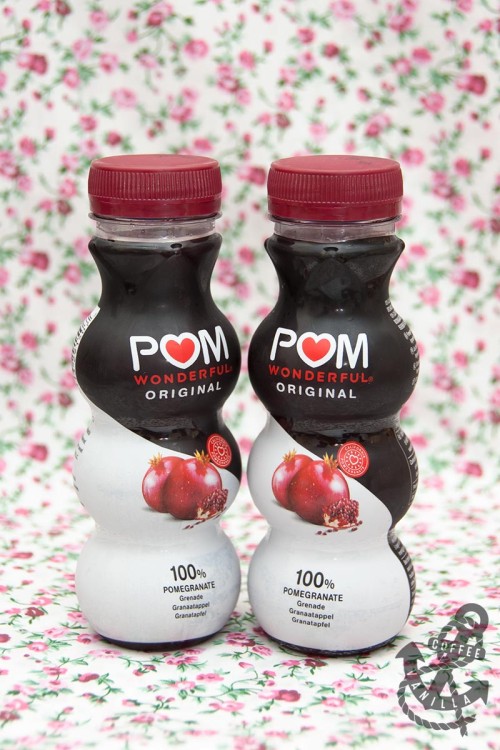 POM Wonderful (about £1.60 / 190 ml) is a 100% Pomegranate Juice – it is packed with vitamins and minerals, it has  no added preservatives or colourants and is a good source of potassium.
It has strong a bit tart flavour but "works better than the morning coffee" according to my husband. It is also said to be great post workout and mixed with water to keep you hydrated through the day, so important especially during Summer months.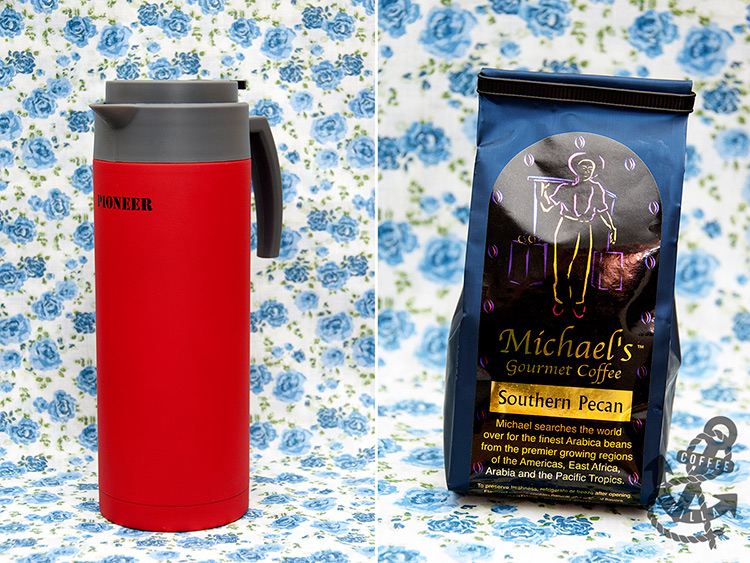 And at last but not least there is our Father's Day gift idea from HomeSense. There were so many things to choose from: tools, hot sauces, photo frames, variety of coffees from all over the World, big manly mugs that we had hard time deciding what to get.
Finally, we went for this good looking red & grey 1 litre Pioneer Flask (£12.99) because my husband is a web designer and spend hours at this desk to keep his coffee fresh and warm and to go with it – Michael's Southern Pecan (£3.99) because he quite likes pecan nuts and this coffee has his name all over it.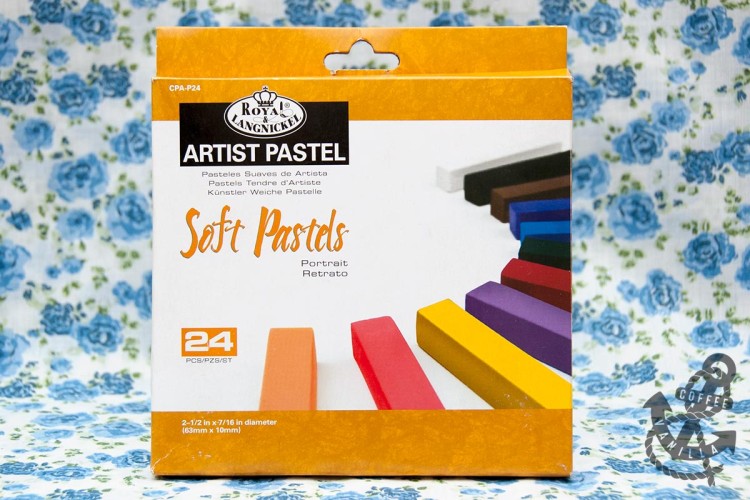 And as tomorrow is Childrens' Day and I had a bit left on my voucher I took those Royal Langnickel Soft Pastels (£3.99) for my older daughter who loves drawing.
NOTES
Since April's Tried & Tested we wrote about Brighton Festival Children's Parade 2015, had family day out at the Middle Farm, visited Shoreham and went for a press trip to Paris with mentioned above Teisseire syrups.
The next Tried & Tested will be published on the 30th of June and will be all about end of school, holidays, eating al fresco and kids' toys for long Summer evenings, stay tuned.
DISCLOSURE: All of the products has been sent to us for review purposes. Pioneer flask, Michael's coffee and soft pastels have been bought using Homesense gift voucher. Chicago Town Takeaway pizzas were purchased using pizza vouchers sent to us. We were not financially compensated for this post. All opinions expressed here are our own and we retained full editorial control.