If you have basil plant that you need to get rid of or bought bunch of basil, used couple of leaves and don't know what to do with the rest – this is solution for you.
Additionally this home-made chunky pesto is extremely easy to make, there is even no need for blender… a knife with chopping board are enough.
And it taste soooo much better than store bought pesto despite the fast we used here plain Cheddar cheese rather than expensive Parmesan and almonds instead pine nuts.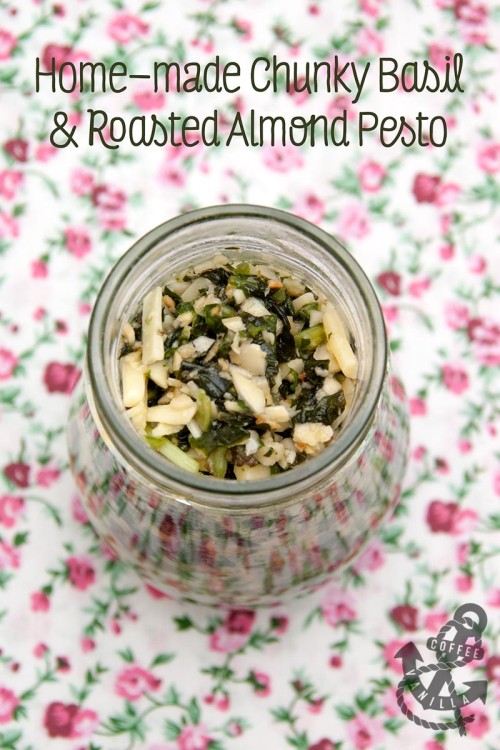 INGREDIENTS
½ cup chopped basil leaves
½ cup flaked almonds
½ cup grated cheese (we used Cheddar)
sea salt – to taste
4 – 5 tbs olive oil
cooked spaghetti, mafaldine corte, penne or other pasta shapes – to serve
METHOD
Toast / roast almond flakes on frying pan until golden and leave aside to cool down.
Chop basil leaves if you haven't yet.
Crush / chop flaked almonds.
Grate also the cheese if it is not grated yet (we used ready grated cheese).
Combine all of the above ingredients with olive oil, season to taste with salt.
Serve over cooked spaghetti.
Makes enough pesto for 500 g packet of spaghetti and serves 4 – 5 people. 
NOTES
If you prefer smooth pesto, go ahead, use blender. Our kids prefer pesto this way… so they can see what is in it.
It tastes also great as an addition to sandwiches and wraps or on crackers.
If you are looking for more home-made pesto ideas, check out those recipes: Vegan Watercress, Rocket, Spinach & Almond Pesto from Jen's Food, Nasturtium Pesto and Parsley Pesto from The Botanical Kitchen or Radish Leaf Pesto from Cook Sister.