If you have any unwanted last year's tinsels you may like this idea – tinsel wreath is super easy to make and takes minutes to assemble, from start to finish.
Our lovely neighbors (the same ones that brought us festive goodies the other day) always have beautifully decorated door around Xmas time and we got a bit jealous… As it was pouring outside I did not really feel like going out to look for decorations so our girls decided to make their own wreath instead. They cut out circle out of cardboard and wrapped some spare tinsels around it. The result positively surprised with me… What do you think?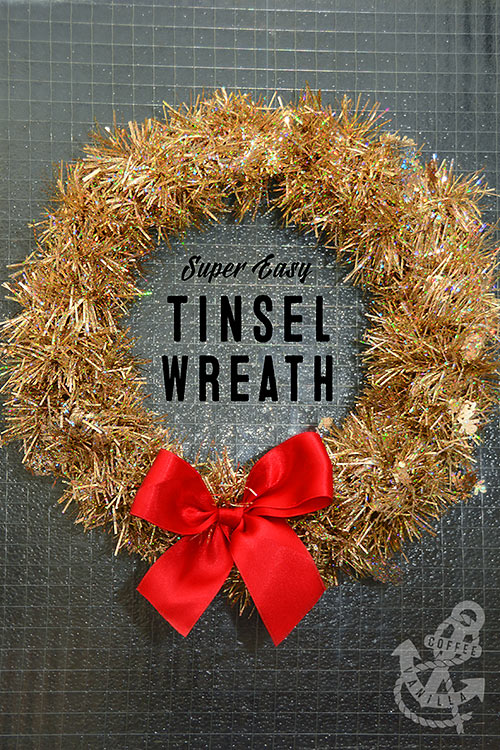 MATERIALS
1 – 2 tinsels (depending on the length)
piece of cardboard
ribbon
other decorations – optional 
transparent craft thread or fishing thread (to tie the ribbon and also to hang the wreath on the door)
EQUIPMENT
stapler / glue or glue gun
sticky tape – optional 
METHOD
Use dinner plates or some other big round object to draw shape of the wreath on the cardboard, then cut it out.
Connect the tinsel to the cardboard circle with stapler or glue, wrap it around, at the end staple or glue it again.
Tie a bow and connect it with the invisible thread to the wreath.
Optionally add some other festive decorations as well.
To hand it on the door use the invisible thread (ours shows a bit) and tie on the inside of the door, or use sticky tape.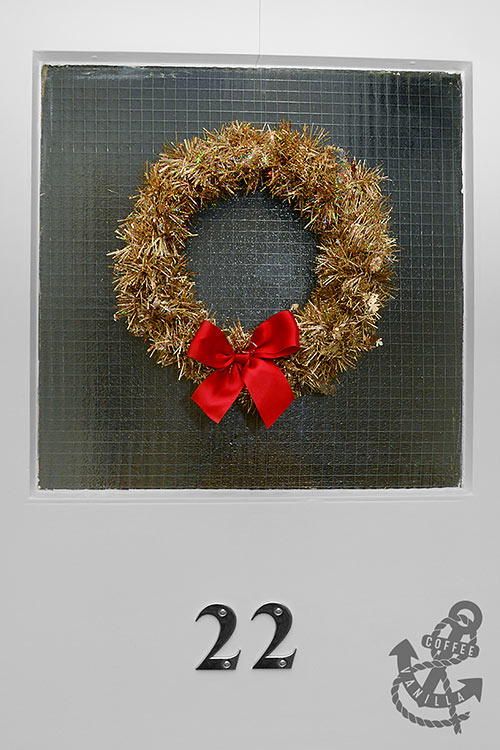 TIPS
If the wreath is going to be hanging outside, use plastic or styrofoam packaging rather than cardboard, it will last longer.
NOTES
If you are looking for more DIY wreath ideas here is ours from last year: Upcycled Toilet Paper Roll Wreath – Poinsettias.
For more festive ideas take a look at our Winter Holidays – Kids' Crafts, Easy DIY Xmas Home Décor Ideas, Cute DIY Christmas Tree Ornament Ideas, Our Christmas Checklist, Making Christmas Memories & Traditions, Edible Gift Ideas for Christmas & Other Occasions or Creative Gift Wrapping Ideas For Any Occasion.
More Christmas crafts & recipes.
More 30 Minute Crafts.