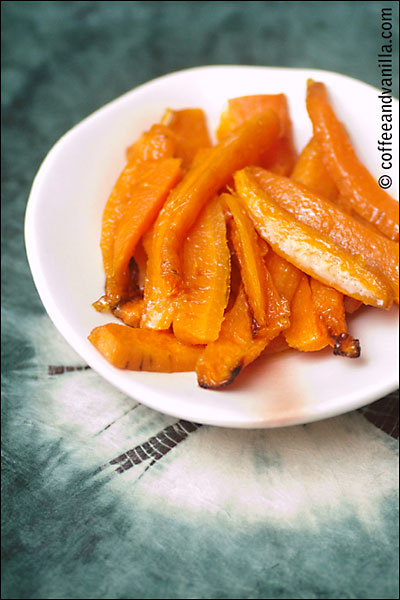 INGREDIENTS
500g carrots (washed, halved lengthwise, then cut into sticks)
2 tbs sesame oil (I used Virgin Sesame Oil from Cooks&Co)
2 tbs ginger honey (I used Sarah's Zesty Honey with Ginger)
some toasted sesame seeds to sprinkle – optional
METHOD
Toss carrots in sesame oil.
Place them on non-stick baking tray and roast in the over preheated to  200°C (392°F) for about 25 minutes or a little bit longer, if you don't like them crunchy.
Remove from the oven, glaze with some ginger honey, optionally sprinkle with some toasted sesame seeds and serve immediately.
Serve 6 people as a side dish.
NOTES
Those sesame & ginger honey carrots taste great with some char-grilled chicken and roasted potatoes.
To toast sesame seeds place them on dry, non-stick frying pan and heat mixing constantly until seeds are browned slightly.
More carrot dishes to try:
Roasted Red Curry Carrots with Ginger and Garlic by Kalyn's Kitchen
Simple carrot soup served with crunchy buttered bread by Michelle of Greedy Gourmet.